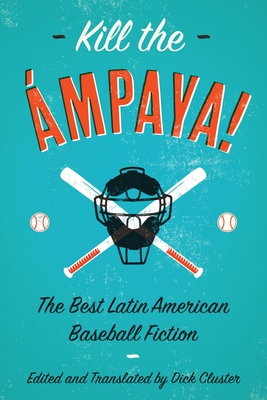 Kill the Ampaya! the Best Latin American Baseball Fiction (Paperback)
Mandel Vilar Press, 9781942134268, 240pp.
Publication Date: April 11, 2017
* Individual store prices may vary.
Description
"If baseball is really a metaphor for life, then Kill the Ampaya -- Dick Cluster's wonderful collection of Latin American baseball stories -- is an astonishing record of its beauty and coarseness, redemption and tragedy. You don't have to be a baseball fan to appreciate these stories, each one hinged on baseball directly or indirectly, and delight in this reading."--Achy Obejas, author of The Tower of Antilles and Other Stories
"These are stories we have lived. . . Some are funny, some cruel or violent, but in the end they are part of our culture that makes us act the way we do. They make me think of the millions of stories that got lost behind us." --Omar Vizquel, from Venezuela, one of baseball's all-time best fielding shortstops who played for the Seattle Mariners, Cleveland Indians, San Francisco Giants, Texas Rangers, Chicago White Sox, and Toronto Blue Jays.
"Baseball is in the soul of millions in Puerto Rico and the other countries that play the game with a Latino flair. These stories are portraits of its place in our lives." --Benjie Molina, former Texas Rangers catcher and first base coach.
A rich variety of baseball fiction exists south of the Florida Straits and the Rio Grande, but almost none available in English. This collection translates for the first time stories ranging from the highly literary to the vernacular. These inventive and entertaining stories reveal the place of baseball in Latin America. Mixing fan and fandom, baseball and politics, rural and urban life, sexism and poverty, Kill the Ampaya reveals how baseball shapes the social fabric of everyday Latin American life.
The collection includes well known writers such as Leonardo Padura from Cuba (The Man Who Loved Dogs), Sergio Ramirez from Nicaragua (Divine Punishment, A Thousand Deaths Plus One). Others are well known writers in their home countries such as Arturo Arango and Eduardo del Llano in Cuba, Alexis Gomez Rosa and Jose Bobadilla in the Dominican Republic, Yolanda Arroyo Pizarro in Puerto Rico, Vicente Lenero in Mexico as well as emerging literary figures such as Salvador Flejan and Rodrigo Blanco Calderon in Venezuela, Sandra Tavarez and Daniel Reyes German in the D.R., Carmen Hernandez Pena in Cuba.

About the Author
Dick Cluster, the editor and translator of this collection, is the co-author of History of Havana (Palgrave, 2006). He is also the author of the novels Return to Sender, Repulse Monkey and Obligations of the Bone and the author of nonfiction books including They Should Have That Cup of Coffee and Shrinking Dollars, Vanishing Jobs. He is the translator of Cuban literature including such works as Mylene Fernandez Pintado, A Corner of the World (City Lights, 2014) and Pedro de Jesus, Frigid Tales (City Lights, 2002). Cluster taught courses on Cuban history, culture and politics at the University of Massachusetts at Boston where he was Associate Director of the University Honors Program. He lives in the San Francisco Bay area.