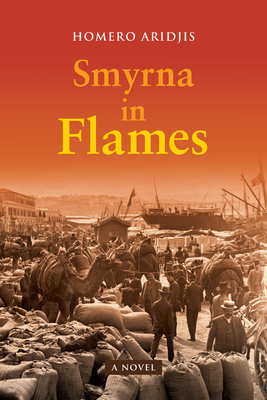 Smyrna in Flames, a Novel
Paperback

* Individual store prices may vary.
Description
This powerful and moving historical novel is inspired by the written recollections and the memories that haunted the author's father, Nicias Aridjis, --a captain in the Greek army, who returned from the fields of battle to Smyrna, 50 miles northwest of his hometown of Tire, in 1922 just as Turkish forces captured this cosmopolitan port city. Smyrna in Flames, by the internationally acclaimed Mexican writer and poet Homero Aridjis, lays bare the unimaginable events and horrors that took place for nine days between September 13 and 22--known as the Smyrna Catastrophe. After capturing Smyrna, Turkish forces went on a rampage, torturing and massacring tens of thousands of Greeks and Armenians and devastating the city--in particular, the Greek and Armenian quarters--by deliberately setting disastrous fires.
After years of fighting in World War I and the Greco-Turkish War, Nicias enters a Smyrna under siege. He desperately moves through the city in search of Eurydice, the love of his life whom he left behind. Wandering the streets, the sounds of hopelessness commingle in his mind with echoes of the ancient Greek poets who sang of the city's past glories. Images and voices, suggestive of Homeric ghosts adrift in a catastrophic scenario, conjure up a mythological, historical, geographical quest that, in the manner of classical epic, hovers between the heroic and the horrible, illustrating the depths and depravity of the human soul.
Making his way from district to district, evading capture, Nicias observes the last vestiges of normal life and witnesses unspeakable horrors committed by roaming Turkish forces and irregulars who are randomly abusing and raping Greek and Armenian women and torturing and murdering their men. What he experiences is literally a living hell unfolding before his eyes. As Nicias passes familiar buildings, cafes, and churches, his mind and soul fill with nostalgia for his earlier life and the promise of love.
Fortunately for the reader, the brutal and bloodthirsty scenes of the Smyrna Catastrophe are leavened by the voice of this "visionary poet of lyrical bliss, crystalline concentrations and infinite spaces," as Kenneth Rexroth has described Aridjis. His portrayal of a genocide-in-progress floods our senses, turning these chaotic scenes into a poignant drama.
At the very end, aboard one of the last ships to take refugees out of Smyrna before its final fall, Nicias scours the throng of thousands of desperate Greeks and Armenians pressing forward to escape on already overcrowded ships. Suddenly Turkish forces move in to shoot and stab, and, overwhelmed by the all-pervasive tragedy, Nicias abandons Smyrna and Asia Minor forever.
Mandel Vilar Press, 9781942134756
Publication Date: October 5, 2021