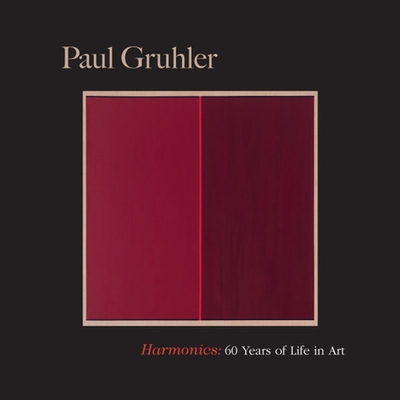 Harmonics
Sixty Years of Life in Art
Paperback

* Individual store prices may vary.
Description
Paul Gruhler opened his first studio in 1962 at the age of 21 -- a year later he had a solo show at the DeMena Gallery in lower Manhattan. From the beginning, Gruhler, a self-taught artist, was compelled by what came to be known as geometric abstraction, in which the deliberative arrangement of color, line, texture, and scale, in paintings and collage, evoke from these disparate elements a sense of meditative harmony. For sixty years, he has continued to explore the subtle differences that can be made from color and line. Gruhler was fortunate in the early years to have met and become good friends with three older artists who were also important teachers and mentors -- first Michael Lekakis, then Harold Weston and Herb Aach. Lekakis, a celebrated sculptor, who already had had exhibitions at the Guggenheim Museum, the Whitney Museum of American Art, and the Museum of Modern Art's exhibition Americans 1963, took Gruhler under his wing, navigating him through New York's thriving avant-garde art scene. As Carolyn Bauer writes, "Michael Lekakis was instrumental in encouraging Gruhler to attend art events, while taking him to invite-only museum openings." He also introduced him to renowned artists -- among them, Alexander Calder, Isamu Noguchi, Louise Nevelson, and Barnett Newman -- whose works influenced the young Gruhler, as did such artists as Mark Rothko, Clyfford Still, and Ad Reinhardt. Lekakis was also instrumental in Gruhler's first show, giving titles to his paintings and writing catalog copy that drew upon his own abstract poetics. "These canvases," he wrote, are "multi colored fire densely cascades to suspension hanging a counterpoint of rhythmic patterns in space covering it like a shroud united by a golden fragmentation." Over these years Gruhler has had numerous solo and group shows in the U.S. in New York and Vermont, in Mexico, and abroad in Finland, Germany, Sweden, and The Netherlands. HARMONICS is both a retrospective and a current view of Paul Gruhler's intensive art. "My work," he says, "has been a meditative exploration of vertical and horizontal relationships in space, in order to achieve both harmony and tension within color, line and form."--Paul Gruhler "Publisher.
Mandel Vilar Press, 9781942134794, 128pp.
Publication Date: September 1, 2021