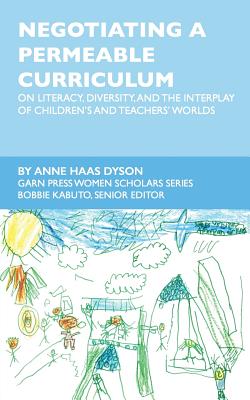 Negotiating a Permeable Curriculum (Paperback)
On Literacy, Diversity, and the Interplay of Children's and Teachers' Worlds
Garn Press, 9781942146438, 114pp.
Publication Date: July 13, 2016
* Individual store prices may vary.
About the Author
Anne Haas Dyson, Ph.D., is Faculty Excellence Professor in the College of Education at the University of Illinois at Urbana/Champaign. She began her career in education as an elementary school teacher at the El Paso Catholic Diocese in El Paso, Texas in 1972. Dr. Dyson received her Ph.D. in Education from the University of Texas in Austin, Texas in 1981. Dr. Dyson has published 12 books and over 100 journal articles and book chapters all regarding children's writing. Her most recent book will be an edited volume titled Child Cultures, Schooling, and Literacy: Global Perspectives on Composing Unique Lives, which will be published by Routledge, Taylor and Francis Group in 2015. In 2015, Dr. Dyson, along Dr. Celia Genishi received the prestigious Outstanding Educator of the Year Award from NCTE. Bobbie Kabuto, PH.D., is Associate Professor of Literacy Education in the Elementary and Early Childhood Education Department at Queens College, City University of New York. She teaches and advises in the B-6 Literacy Program that leads to New York State certification as a B-6 Reading Teacher. Her research interests include the relationships among early bi/literacy, socially constructed identities, and language ideologies. She currently works with families of struggling beginning readers and writers. Her work has been highlighted in journals such as The Reading Teacher, The Journal of Early Childhood Literacy, and Early Childhood Research and Practice. Her book Becoming Biliterate: Identity, Ideology, and Learning to Read and Write in Two Languages was published by Taylor and Francis in July 2010.
or
Not Currently Available for Direct Purchase