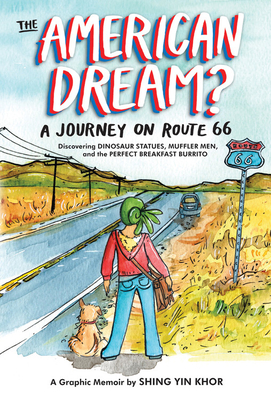 The American Dream? (Paperback)
A Journey on Route 66 Discovering Dinosaur Statues, Mufflier Men, and the Perfect Breakfast Burrito
Zest Books, 9781942186373, 160pp.
Publication Date: August 6, 2019
Other Editions of This Title:
Library Binding (8/6/2019)
* Individual store prices may vary.
Description
As a child growing up in Malaysia, Shing Yin Khor had two very different ideas of what "America" meant. The first looked a lot like Hollywood, full of beautiful people and sunlight and freeways. The second looked more like The Grapes of Wrath - a nightmare landscape filled with impoverished people, broken-down cars, barren landscapes, and broken dreams. Those contrasting ideas have stuck with Shing ever since, even now that she lives and works in LA. The American Dream? A Journey on Route 66 is Shing's attempt to find what she can of both of these Americas on a solo journey (small adventure-dog included) across the entire expanse of that iconic road, beginning in Santa Monica and ending up Chicago. And what begins as a road trip ends up as something more like a pilgrimage in search of an American landscape that seems forever shifting, forever out of place.
About the Author
Shing Yin Khor is a cartoonist and installation artist. Her work has been published in The Toast, The Nib, Upworthy, Huffington Post, and Bitch Magazine. She makes the road trip adventure comic Tiny Adventure Journal, and the tender queer science fiction comic Center for Otherworld Science. She is also the author of The American Dream? A Journey on Route 66 Discovering Dinosaur Statues, Mufflier Men, and the Perfect Breakfast Burrito published by Zest Books. She lives in Los Angeles.