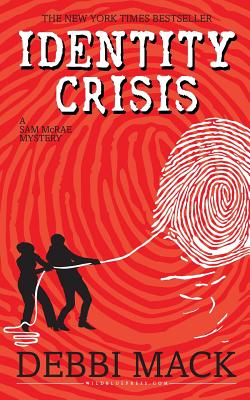 Identity Crisis (Paperback)
Wildblue Press, 9781942266150, 276pp.
Publication Date: August 25, 2015
* Individual store prices may vary.
Description
A simple domestic abuse case turns deadly when the alleged abuser is killed and Stephanie Ann "Sam" McRae's client disappears. When a friend asks Sam to find Melanie Hayes, the Maryland attorney is drawn into a complex case of murder and identity theft that has her running from the Mob, breaking into a strip club and forming a shaky alliance with an offbeat private investigator to discover the truth about Melanie and her ex-boyfriend. With her career and life on the line, Sam's search takes her from the blue-collar Baltimore suburbs to the mansions of Gibson Island. Along the way, she learns that false identities can hide dark secrets, and those secrets can destroy lives.
TESTIMONIALS:
"Debbi Mack has created a first-rate heroine in Sam McRae. Sam is tough, resilient, sassy and unstoppable. Good thing, too, as IDENTITY CRISIS moves at a slam-bam pace."
-- Simon Wood, author of TERMINATED
"If you enjoy realistic legal thrillers-and dread the thought of 'identity theft' striking home-IDENTITY CRISIS will be a genuine treat. Debbi Mack has used her own experience as an attorney to craft a twisty yet completely credible plot. And her protagonist, Stephanie Ann 'Sam' McRae, is a perfect example of what every client should hope for in an advocate: a professional who's willing to take risks both inside AND outside the courtroom."
-- Jeremiah Healy, Author of RESCUE, TURNABOUT and THE ONLY GOOD LAWYER
"IDENTITY CRISIS is a well-written and well-plotted mystery which introduces lawyer-sleuth Sam McRae. She's an exciting new protagonist mystery readers will want to get to know."
-- Louise Titchener, Author of MALPRACTICE, BURNED IN BALTIMORE and BURIED IN BALTIMORE
REVIEWS:
"Of suspense, Alfred Hitchcock once said, 'There is no terror in the bang, only in the anticipation of it.' Author Debbi Mack nails that statement in this tightly written tale about a flawed Maryland attorney, 'Sam' McRae, and her relentless search for a killer when the domestic abuse case she has been handling kicks itself up a notch: The accused is found dead and his wife has taken off. Not good. Add to that the FBI, the Mob, identity theft, and a vulnerable main character involved with a married prosecutor and you have a darn good page-turner. Debbi Mack crafts a taut narrative with crackling dialogue."
-- Aimee Zuccarini, The Maryland Women's Journal, Oct./Nov. 2009.
"Identity Crisis" establishes Sam McRae, hard-boiled lawyer turned investigator, as a spunky sleuth who tackles her own identity crisis while investigating murder and identity thefts linked to client Melanie Hayes. High-speed chases, break-ins at a seedy strip club, and violent Mafia-linked connections keep this well-crafted novel on an adrenaline roller-coaster ride through some of the more interesting Baltimore neighborhoods and suburbs. An unusual surprise ending had me checking previous pages to see where I missed the clue. Debbi Mack did an awesome job on developing the characters as well as the dialogue. I totally enjoyed "Identity Crisis" and breathlessly await Sam McRae's next intriguing, and paying, mysterious client with a past.
-- Deborah A. Liptak
FROM THE AUTHOR:
I've always been a huge fan of the private eye novel. When I wrote IDENTITY CRISIS, I had decided to distinguish my PI protagonist from all the others by making her a lawyer. The idea of basing the plot on false, mistaken and stolen identities was inspired in great part by the old hardboiled masters of the genre, including Raymond Chandler, Dashiell Hammet and, particularly, Ross Macdonald.
or
Not Currently Available for Direct Purchase