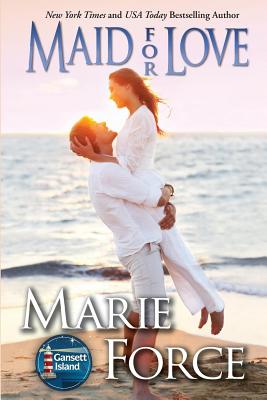 Maid for Love
Gansett Island Series, Book 1
Hardcover

* Individual store prices may vary.
Other Editions of This Title:
Paperback (4/28/2011)
Mass Market (4/24/2018)
MP3 CD (9/1/2015)
MP3 CD (9/17/2013)
Compact Disc (9/17/2013)
Paperback (3/23/2012)
Description
She's a single mom with no patience for a playboy until he proves he's playing for keeps.
The Gansett Island Series: Book 1
Maddie Chester is determined to leave her hometown of Gansett Island, a place that has brought her only bad memories and ugly rumors. Then she's knocked off her bike on the way to her housekeeping job at McCarthy's Resort Hotel by Gansett's "favorite son," Mac McCarthy. He's back in town to help his father with preparations to sell the family resort and has no intention of staying long. When Mac accidentally sends Maddie flying over the handlebars, badly injuring her, he moves in to nurse her back to health and help care for her young son. He soon realizes his plans for a hit-and-run visit to the island are in serious jeopardy, and he just may be "maid" for love.
Includes a pre-signed title page.

Book 1: Maid for Love (Mac & Maddie)
Book 2: Fool for Love (Joe & Janey)
Book 3: Ready for Love (Luke & Sydney)
Book 4: Falling for Love (Grant & Stephanie)
Book 5: Hoping for Love (Evan & Grace)
Book 6: Season for Love (Owen & Laura)
Book 7: Longing for Love (Blaine & Tiffany)
Book 8: Waiting for Love (Adam & Abby)
Book 9: Time for Love (Daisy & David)
Book 10: Meant for Love (Jenny & Alex)
Book 10.5: Chance for Love, A Gansett Island Novella (Jared & Lizzie)
Book 11: Gansett After Dark (Owen & Laura)
Book 12: Kisses After Dark (Shane & Katie)
Book 13: Love After Dark (Paul & Hope)
Book 14: Celebration After Dark (Big Mac & Linda)
Book 15: Desire After Dark (Slim & Erin)
Book 16: Light After Dark (Mallory & Quinn)
Book 17: Victoria & Shannon (Episode 1)
Book 18: Kevin & Chelsea (Episode 2)
Book 19: Mine After Dark (Riley & Nikki)
Book 20: Yours After Dark (Finn & Chloe)
Book 21: Trouble After Dark (Deacon & Julia)

"With the McCarthy's of Gansett Island, Marie Force makes you believe in the power of true love and happily ever after. Over and over again." Carly Phillips, NY Times Bestselling Author of the Serendipity series.

"No one tells a love story like Marie Force or makes characters come alive for the readers. She has an incredible ability to pull you into the story and long after you finish the book the scenes still play out in your head and your heart. The McCarthys of Gansett Island sets a very high standard for all other series." Desiree Holt, author of the popular Phoenix Agency and Naked Cowboys series
HTJB, Inc., 9781942295426, 264pp.
Publication Date: April 11, 2016
About the Author
With more than 4 million books sold, Marie Force is the New York Times, USA Today and Wall Street Journal bestselling, award-winning author of more than 40 contemporary romances. Her New York Times bestselling self-published Gansett Island Series has sold 2 million e-books since Maid for Love was released in 2011. She is also the author of the New York Times bestselling Fatal Series from Harlequin's Carina Press, as well as the New York Time bestselling Green Mountain Series from Berkley Sensation, among other books and series.