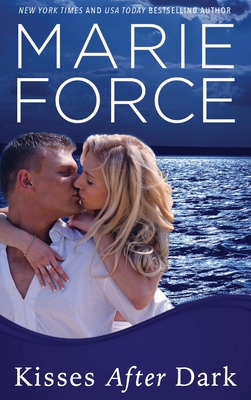 Kisses After Dark (Gansett Island Series, Book 12)
Hardcover

* Individual store prices may vary.
Description
The hardest word in the world isn't "no." It's "yes."
Kisses After Dark
The Gansett Island Series, Book 12
A New York Times & USA Today bestseller

She's avoided men all her life...
Growing up with an abusive father, Katie Lawry learned a thing or two about men and has made a conscious choice to stay far away from them. Until the day of her brother Owen's wedding when she's rescued from nearly drowning by Shane McCarthy. With everyone who matters to Katie assuring her that Shane is one of the good guys, she feels safe to give in to the attraction that simmers between them. Katie has waited a long time to take a chance on love, but is Shane the right guy for her?

He's ready to move on...
More than two years after a painful divorce, Shane has a life on Gansett Island that makes sense to him. With his father, sister and beloved baby nephew living close by and a job that he enjoys, Shane is content if not entirely happy. One thing he knows for sure is he's tired of living in the past. Spending time with sweet, sensitive, sexy Katie Lawry makes him feel hopeful, and he might be ready to risk his heart again.

Surrounded by the Gansett Island community, Shane and Katie take an important step forward together, but is their new relationship strong enough to withstand an unexpected challenge?

Enjoy Shane and Katie's story while catching up with some of your Gansett Island favorites in this latest book in the New York Times bestselling McCarthys of Gansett Island Series Start the series with Book 1, MAID FOR LOVE , FREE everywhere ebooks are sold.
Includes a pre-signed title page.
The Gansett Island Series
Book 1: Maid for Love (Mac & Maddie)
Book 2: Fool for Love (Joe & Janey)
Book 3: Ready for Love (Luke & Sydney)
Book 4: Falling for Love (Grant & Stephanie)
Book 5: Hoping for Love (Evan & Grace)
Book 6: Season for Love (Owen & Laura)
Book 7: Longing for Love (Blaine & Tiffany)
Book 8: Waiting for Love (Adam & Abby)
Book 9: Time for Love (Daisy & David)
Book 10: Meant for Love (Jenny & Alex)
Book 10.5: Chance for Love, A Gansett Island Novella (Jared & Lizzie)
Book 11: Gansett After Dark (Owen & Laura)
Book 12: Kisses After Dark (Shane & Katie)
Book 13: Love After Dark (Paul & Hope)
Book 14: Celebration After Dark (Big Mac & Linda)
Book 15: Desire After Dark (Slim & Erin)
Book 16: Light After Dark (Mallory & Quinn)
Book 17: Episode 1: Victoria & Shannon
Book 18: Episode 2: Kevin & Chelsea
Book 19: Mine After Dark ( Riley & Nikki)
Book 20: Yours After Dark (Finn & Chloe)
Book 21: Trouble After Dark (Deacon & Julia)
HTJB, Inc., 9781942295952, 364pp.
Publication Date: October 18, 2016