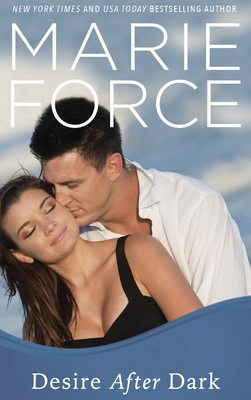 Desire After Dark (Gansett Island Series, Book 15)
Hardcover

* Individual store prices may vary.
Other Editions of This Title:
Paperback (5/23/2016)
Description
A dozen days--and nights--to explore all the possibilities...
Tobias "Slim" Jackson has the perfect life as a pilot on Gansett Island in the summer and in Florida in the winter. He's happiest when he's in the air, or at least that was the case before last summer when he met Erin Barton, Gansett Island's newest lighthouse keeper. Now he can't seem to find his usual enthusiasm for flying, winter in the sunny South or anything that doesn't include her.
Erin has been stuck on pause since she lost her twin brother. She'll tell you herself that her life has been a hot mess since Toby died. After dropping out of law school, she's flitted from one pointless job to another, existing rather than truly living. Then she comes to Gansett Island to take over as the new lighthouse keeper and meets Slim, who happens to share her beloved brother's first name. That small coincidence is enough to convince Erin that she needs to spend more time with the dashing pilot--except for the fact that he's spending the winter more than a thousand miles from her.
Now Slim's come home to Gansett for the holidays and to hopefully pick up where he left off with Erin. He's got twelve days before he's due back in Florida to finish out the remainder of his winter obligations. A lot can happen in twelve days, but will it be enough to convince Erin that it's time to start truly living again? Read Slim and Erin's story and catch up with the rest of the Gansett Island cast in Desire After Dark
Includes a pre-signed title page.
The Gansett Island Series
Book 1: Maid for Love (Mac & Maddie)
Book 2: Fool for Love (Joe & Janey)
Book 3: Ready for Love (Luke & Sydney)
Book 4: Falling for Love (Grant & Stephanie)
Book 5: Hoping for Love (Evan & Grace)
Book 6: Season for Love (Owen & Laura)
Book 7: Longing for Love (Blaine & Tiffany)
Book 8: Waiting for Love (Adam & Abby)
Book 9: Time for Love (Daisy & David)
Book 10: Meant for Love (Jenny & Alex)
Book 10.5: Chance for Love, A Gansett Island Novella (Jared & Lizzie)
Book 11: Gansett After Dark (Owen & Laura)
Book 12: Kisses After Dark (Shane & Katie)
Book 13: Love After Dark (Paul & Hope)
Book 14: Celebration After Dark (Big Mac & Linda)
Book 15: Desire After Dark (Slim & Erin)
Book 16: Light After Dark (Mallory & Quinn)
Book 17: Episode 1: Victoria & Shannon
Book 18: Episode 2: Kevin & Chelsea
Book 19: Mine After Dark (Riley & Nikki)
Book 20: Yours After Dark (Finn & Chloe)
Book 21: Trouble After Dark (Deacon & Julia)
HTJB, Inc., 9781942295990, 292pp.
Publication Date: October 19, 2016