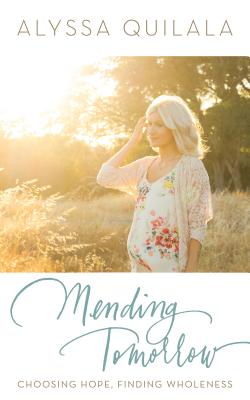 Mending Tomorrow
Choosing Hope, Finding Wholeness
Paperback

* Individual store prices may vary.
Description
Mending Tomorrow is a book about the questions of life--not the questions we ask of life, but the questions life, and the Author of life, asks of us. "How will you respond to this? What kind of person will you be?" 

Many of these questions we would rather not answer. We'd rather God not ask us to respond to loss, pain, betrayal, and disappointment. For author Alyssa Quilala, the hardest question to answer after the death of her baby son was, "Will you trust God?" Choosing to get up each morning and say "yes" was a daily battle, but she knew it was the battle for herself--and for all those who needed her "yes." 

In Mending Tomorrow, Alyssa invites you readers to join her in learning how to respond well to this and other challenging and important questions. How do you handle emotional pain? How do you overcome fear of loss or failure? How do you be yourself in a world that wants you to be someone else? How we respond is ultimately who we become. Our tomorrows will be mended, or broken, by how we answer these questions today.
NEWTYPE, 9781942306184, 160pp.
Publication Date: February 9, 2016
About the Author
Alyssa Quilala is a wife, mom, minister, and fitness instructor. She and her husband Chris Quilala, lead singer for the worship band Jesus Culture, are the parents of Ella and Aria and overcame the unexpected stillbirth of their son, Jet, whom she carried in pregnancy for almost nine months. During the writing of this book, Alyssa and Chris received the news that they are pregnant with their fourth child. Alyssa is actively involved in ministry at her home church, Jesus Culture Sacramento. Along with being an ordained minister, Alyssa is also certified in Pilates, Barre Training, Spin Bike, and Group Fitness Training. Alyssa is passionate about living out a healthy way to express emotions, and helping others overcome traumatic experiences with biblical tools. She believes that both physical health and emotional health are crucial parts of living a whole and happy life in Christ.

Chris Quilala is one of the worship leaders of the Jesus Culture band and on the Jesus Culture Senior Leadership Team. He is the worship pastor for the new Jesus Culture Church as well. He is a talented and anointed worship leader with a love for the presence and power of God. He and his wife Alyssa have two adorable daughters, Ella and Aria.