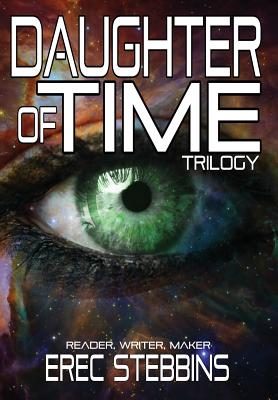 Daughter of Time Trilogy (Hardcover)
Twice Pi Press, 9781942360063, 910pp.
Publication Date: January 1, 2015
Other Editions of This Title:
Paperback (11/21/2018)
Paperback (1/1/2015)
* Individual store prices may vary.
Description
"Literary fiction that transcends its genre. Read this novel. Immediately."--Portland Book Review of WRITER READER, WRITER, AND MAKER: All three novels of the trilogy in one book. Speculative fiction with time travel, alien armageddon, metaphysical mysteries, action, adventure, cosmology, cybernetics, religion, and romance READER: From the future, a final plea. Out of the past, a last hope. Ambra Dawn, a young girl born to die in freakish disregard. A doomed world, enslaved to forces unseen. A final hope beyond imagining. Become a Reader, because in the end, the most unbelievable step in the adventure - will be your own. WRITER: From hatred, Love. From many, One. Book 2 in the Daughter of Time trilogy: A love story and sci-fi epic about the beautiful and terrible destiny of profoundly star-crossed lovers with a galaxy's fate in their hands. MAKER: Until all is lost, nothing is found. Conclude the epic story of Ambra Dawn in the final installment of the trilogy. A story in which the one that was lost will be found. Where a thief will guide through chaos and time. Where all that was held dear will perish. And in that final and utter destruction--there will be a Creation. "Deeply thoughtful and exciting, warping the expectations of the genre... reminds me of Dan Simmons' Hyperion." --San Francisco Book Reviews, WRITER "A gripping science-fiction epic that will propel readers toward wonder" -ForeWord Reviews, READER "Unique and altogether profound, reminiscent of Bradbury, haunting, thought-provoking and surprisingly philosophical" -San Francisco Book Reviews, READDR "A richly detailed, compelling story about the power of love." --Kirkus Review of READER "Another epic story" --Midwest Book Reviews, WRITER.
or
Not Currently Available for Direct Purchase