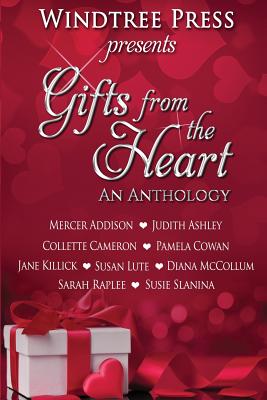 Gifts from the Heart
An Anthology
Paperback

* Individual store prices may vary.
Description
Rediscover the magic and romance of Valentine's Day with these nine stories of Gifts From The Heart. Stories of best friends, lost chances, first love, love renewed, and new love will bring a tear to your eye and a little skip in the beat of your heart. Read about a wounded warrior saved by a ring. Empathize with two different widows as they strive to overcome their past and open their hearts to trust again. Follow a survivor of the Titanic as she boards another ship and her past and future collide. Shiver with the cautionary tale of the prison of love in the legend of Ann'er from the dark world of Thorn. Laugh at the humorous escapades of a young woman led to find love through the questionable assistance of her cat. Then finish this volume by relaxing in the fairy-tale world of a little dog who helps a sad and lonely princess learn to accept the unconditional love of pets. "The Telltale Heart" by Sarah Raplee "Is He the One?" by Judith Ashley "Saved by the Ring" by Diana McCollum "Be My Valentine" by Susan Lute "Dancing on Water" by Mercer Addison "Heart of a Highlander" by Collette Cameron "The Flaming Heart of Winter" by Pamela Cowan "Matchmaker Cat" by Jane Killick "Metro Goes to London" by Susie Slanina.
Windtree Press, 9781942368076, 198pp.
Publication Date: January 2, 2015
or
Not Currently Available for Direct Purchase