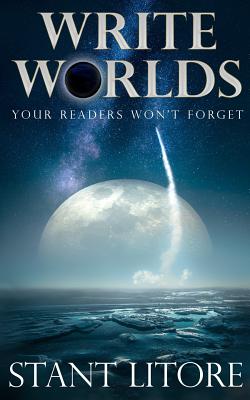 Write Worlds Your Readers Won't Forget
Paperback

* Individual store prices may vary.
Description
"There are other worldbuilding books out there; this is the one you want." - Travis Heerman, author of the Ronin trilogy and Death Wind.
Like a god, you get to invent a world. Maybe several. But how do you make these worlds that readers want to visit? How do you make them worlds that readers never want to leave? In Write Worlds Your Readers Won't Forget, explore how to create unforgettable environments, creatures, and cultures in 33 intensive exercises.
ADVANCE PRAISE FOR WRITE WORLDS YOUR READERS WON'T FORGET:
"One of the best worldbuilding workbooks I've ever seen. Litore is inspirational, reveling in the power of imagination and packing his journey with top-notch examples and exercises. A superb resource for beginners and pros alike." - Richard Ellis Preston, Jr., author of Romulus Buckle and the City of the Founders
"Stant Litore's book overflows with everything you need to know to build your own worlds from the ground up or the top down, from creatures to ecology to culture. Tons of thought-provoking exercises help create an elegant framework for speculative worldbuilding. With these techniques and your own creativity, you'll be able to create worlds your readers will never want to leave. There are other worldbuilding books out there; this is the one you want." - Travis Heermann, author of the Ronin trilogy and Death Wind
"Not only is the advice great, but there's a warmth to the chapters that makes writing inviting rather than intimidating." - Todd Mitchell, author of The Traitor King and The Last Panther
"A master class in world building: Litore has created an accessible, comprehensive approach. Covering religion, biology, technology, magic, language, justice, privilege and more, the book ignites the writer's imagination with provocative questions and exercises. Pro tip: read this with a notebook handy. You will be inspired to get down to the business of building your fictional world in ways you hadn't dreamed possible. Litore's passion for well-crafted sci-fi comes through in every chapter." - S.G. Redling, author of Flowertown and Damocles
"This is a clear, comprehensive, and beautifully written guide to worldbuilding that will not only help emerging writers to find their voices and build imaginative worlds and characters, but one that will also prove invaluable to experienced writers seeking to spark their creative impulses or deepen the worlds they create. My favorite thing about this guide was how incredibly immersive it is. When Litore says the word 'worldbuilding, ' he's not kidding... Highly recommended. I can't wait to use some of the exercises and questions Litore offers here when writing my next book." - Angela Mitchell, author of Falada and Dancing Days
"Stant Litore does an excellent job bringing structure and order to the art of world-building. His book makes the craft easy to understand and is filled with information for beginners and veterans alike." - Milton Davis, author of Changa's Safari
"Stant Litore is a wonderful storyteller with a knack for creating nuanced characters and equally nuanced worlds. And this book delivers on its title: it offers a great glimpse at how to write worlds your readers won't forget." - James A. Hunter, author of the Yancy Lazarus series and Viridian Gate Online
Westmarch Publishing, 9781942458302, 168pp.
Publication Date: November 6, 2017