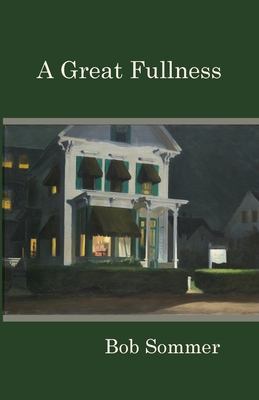 A Great Fullness
Paperback

* Individual store prices may vary.
Description
A Great Fullness is the story of an orphan who lives with a secret even she doesn't know she possesses - the truth about her mother's death. Growing up amid the endless turnover of guests at her aunt and uncle's bed and breakfast inn, Kim Pugh tries to find her place in a world where everyone is a stranger and many have secrets of their own. Set in small-town Kansas as the new millennium ushers in a decade of tragedy and war, A Great Fullness traces the fate of one family whose struggle for survival and redemption echoes the turbulence of a troubled world.
Praise For A Great Fullness…
"As in a Greek tragedy, a horrific death occurs off-stage in Bob Sommer's second novel, A Great Fullness, and colors every moment of this suspenseful story about a surviving child."
—Denise Low, Kansas Poet Laureate, 2007-2009, author of Ghost Stories of the New West

"Bob Sommer writes eloquently about ordinary Midwestern Americans confronted with the extraordinarily disruptive pressures of the twenty-first century…"
—William Merrill Decker, author of Kodak Elegy: A Cold War Childhood

"With cinematic clarity and pace, A Great Fullness takes us inside a family caught in turmoil, as the drama of their lives reflects our troubled society and its broken capacity for joy."
—David Ray, award-winning poet, author of Sam's Book

"While rooted in the landscape of eastern Kansas in the late twentieth century, the story opens itself to all of us, tracing with care and insight the struggle to overcome loss and to forge new bonds of love and trust in the face of all the challenges that life presents."
—Kimball Smith, author of Missing Persons and Nothing Disappears
Fomite, 9781942515333, 346pp.
Publication Date: November 25, 2015
About the Author
Sixties counter-culture icon Mason Williams described Bob Sommer's debut novel, Where the Wind Blew, as "a story of the past and an allegory of the present." Bob's essays and stories have appeared in Rathalla Review, New Plains Review, O-Dark-Thirty, The Whirlybird Anthology of Kansas City Writers, and various literary and scholarly journals. His freelance articles, reviews, and commentary include contributions to The Kansas City Star, Sierra, Chronogram, Rain Taxi, Counterpunch, and National Public Radio's "All Things Considered." He holds a doctorate in American Literature from Duke University and has authored Teaching Writing to Adults and co-authored The Heath Literature for Composition. Bob is the Director of Development for the Sierra Club in Kansas and a lecturer at the University of Saint Mary, Leavenworth. He blogs at Uncommon Hours and can also be found on-line at Poets&Writers and LinkedIn. He and his wife Heather make their home in Overland Park, Kansas