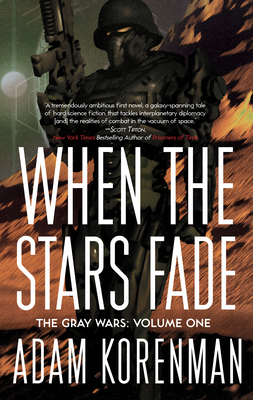 When the Stars Fade
The Gray Wars: Volume 1
Paperback

* Individual store prices may vary.
Description
It's the year 2236, and humanity can't catch a break. While we're licking our wounds from a bloody civil war, two alien armadas stumble into the Solar System fighting one of their own. At odds are the fearsome Boxti Horde and their ancient enemies, the Nangolani. Naturally, we can't resist picking sides and joining the fight, but after several crushing defeats, we're forced to open Pandora's Box to win the war: A top-secret special forces program. Meanwhile, a hotshot starfighter has his mettle tested when the war separates him from his best friend and favorite wingman. Tech-savvy and full of action, humor, and intrigue, When The Stars Fade is the first in a six-book series, The Gray Wars.

Rare Bird Books, 9781942600091, 352pp.
Publication Date: December 8, 2015
About the Author
Adam L. Korenman, a captain in the United States Army, has been writing fiction most of his life. It started with notes from his parents to his teachers, and has exploded into short stories and now a full-length novel. He is a contributor to several online periodicals, and absorbs as much science as his mortal body can take. He currently lives in Los Angeles with his wife, and plans to keep writing until his fingers fall off. This is his first book.
or
Not Currently Available for Direct Purchase