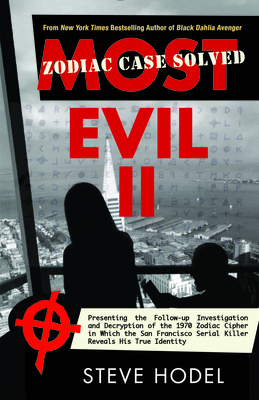 Most Evil II
Presenting the Follow-Up Investigation and Decryption of the 1970 Zodiac Cipher in Which the San Francisco Serial Kill
Paperback

* Individual store prices may vary.
Description
Most Evil II is Steve Hodel's follow-up investigation (2009-2015) into his father's potential murders and introduces new evidence and additional linkage obtained by him over the past six years. Included in that evidence, is the solving of the Zodiac's forty-five year cryptic cipher, which gives us the answer to the question asked in Most Evil, "Were Black Dahlia Avenger and Zodiac the same serial killer?
Rare Bird Books, a Vireo Book, 9781942600459, 352pp.
Publication Date: September 29, 2015
About the Author
Steve Hodel was born and brought up in Los Angeles. Now a private investigator, he spent almost twenty-four years with the LAPD, most of them as a homicide detective-supervisor. During his tenure, he worked on more than three hundred murder cases and had one of the highest "solve rates" on the force. He currently resides in the Los Angeles area. Black Dahlia Avenger: A Genius for Murder, published in 2003, became a New York Times bestseller and was a Mystery Writers of America Edgar Award Nominee. Most Evil: Avenger, Zodiac, and the Further Serial Murders of Dr. George Hill Hodel published in 2009, was a Los Angeles Times bestseller. Steve's Black Dahlia investigation and related books have been featured as full-hour segments on: Dateline NBC, CBS' 48-Hours, A&E's Bill Kurtis Cold Case Files, Discovery Channel's "Most Evil," and The Truth about the Black Dahlia on NBC Universal. Visit his website at stevehodel.com