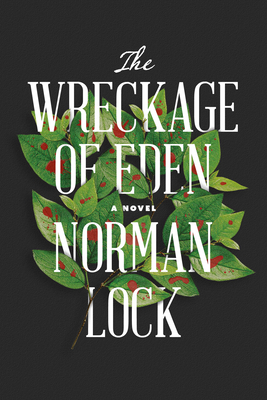 The Wreckage of Eden (American Novels) (Paperback)
Bellevue Literary Press, 9781942658382, 288pp.
Publication Date: June 5, 2018
* Individual store prices may vary.
Description
" Norman Lock's fiction] shimmers with glorious language, fluid rhythms, and complex insights." --NPR
"Lock writes some of the most deceptively beautiful sentences in contemporary fiction. Beneath their clarity are layers of cultural and literary references, profound questions about loyalty, race, the possibility of social progress, and the nature of truth . . . to create something entirely new--an American fable of ideas." --Shelf Awareness
"The Wreckage of Eden is a huge and dark fresco of an army chaplain's journey through very difficult and troubling periods of American history (normally denied us in school), and all the while this fine angle of approach is like a slow cinematic zoom and track onto an elusive Emily Dickinson ensconced in her Amherst." --The Brothers Quay, award-winning film directors
When U.S. Army chaplain Robert Winter first meets Emily Dickinson, he is fascinated by the brilliance of the strange girl immersed in her botany lessons. She will become his confidante, obsession, and muse over the years as he writes to her of his friendship with the aspiring politician Abraham Lincoln, his encounter with the young newspaperman Samuel Clemens, and his crisis of conscience concerning the radical abolitionist John Brown. Bearing the standard of God and country through the Mexican War and the Mormon Rebellion, Robert seeks to lessen his loneliness while his faith is eroded by the violence he observes and ultimately commits. Emily, however, remains as elusive as her verse on his rare visits to Amherst and denies him solace, a rejection that will culminate in a startling epiphany at the very heart of his despair.
Powerfully evocative of Emily Dickinson's life, times, and artistry, this fifth, stand-alone volume in The American Novels series captures a nation riven by conflicts that continue to this day.
Norman Lock is the author of, most recently, four previous books in The American Novels series: The Boy in His Winter, American Meteor, The Port-Wine Stain, and A Fugitive in Walden Woods.
About the Author
Norman Lock is the award-winning author of novels, short fiction, and poetry, as well as stage, radio, and screenplays. His most recent books are the short story collection Love Among the Particles, a Shelf Awareness Best Book of the Year, and five books in The American Novels series: The Boy in His Winter, a reenvisioning of Mark Twain's classic The Adventures of Huckleberry Finn, which Scott Simon of NPR Weekend Edition said, "make[s] Huck and Jim so real you expect to get messages from them on your iPhone"; American Meteor, an homage to Walt Whitman and William Henry Jackson named a Firecracker Award finalist and Publishers Weekly Best Book of the Year; The Port-Wine Stain, a "mesmerizingly twisted, richly layered" (New York Times Book Review) tale featuring Edgar Allan Poe and Thomas Dent Mütter, which was also a Firecracker Award finalist; A Fugitive in Walden Woods, a story that introduced readers to Henry David Thoreau and other famous transcendentalists and abolitionists in a book Barnes & Noble selected as a "Must-Read Indie Novel"; and The Wreckage of Eden, Lock's homage to Emily Dickinson, forthcoming from Bellevue Literary Press in June 2018.Lock has won The Dactyl Foundation Literary Fiction Award, The Paris Review Aga Khan Prize for Fiction, and writing fellowships from the New Jersey State Council on the Arts, the Pennsylvania Council on the Arts, and the National Endowment for the Arts. He lives in Aberdeen, New Jersey, where he is at work on the next books of The American Novels series.