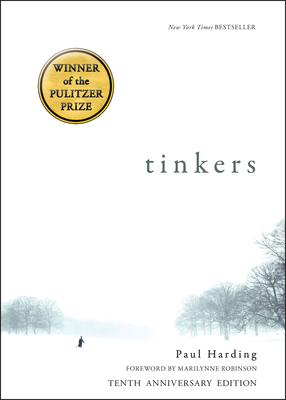 Tinkers
10th Anniversary Edition
Paperback

* Individual store prices may vary.
Other Editions of This Title:
Hardcover (1/29/2019)
MP3 CD (12/1/2016)
Compact Disc (1/15/2016)
MP3 CD (8/13/2013)
Compact Disc (8/13/2013)
Summer 2019 Reading Group Indie Next List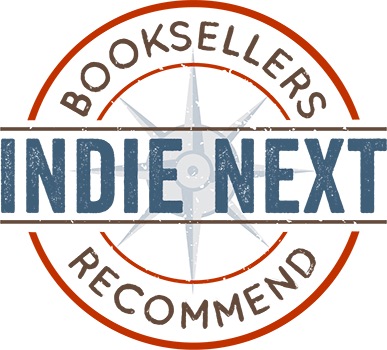 "A California publisher representative read
Tinkers
when it was released by the tiny Bellevue Literary Press 10 years ago, and her passionate support among indies helped send it to bestseller lists and eventually to win a Pulitzer Prize. A tiny novel, it's one we hear customers hand-selling to other readers in that you've-got-to-read-this voice. The protagonist's deathbed memories of his father are a meditation on life and death, written in impeccably lovely prose.
Tinkers
is incomparable."
— Cheryl McKeon, Book Passage, Corte Madera, CA
View the List
Description
Special edition of Paul Harding's Pulitzer Prize-winning debut novel--featuring a new foreword by Marilynne Robinson and book club extras inside
In this deluxe tenth anniversary edition, Marilynne Robinson introduces the beautiful novel Tinkers, which begins with an old man who lies dying. As time collapses into memory, he travels deep into his past, where he is reunited with his father and relives the wonder and pain of his impoverished New England youth. At once heartbreaking and life affirming, Tinkers is an elegiac meditation on love, loss, and the fierce beauty of nature.
The story behind this New York Times bestselling debut novel--the first independently published Pulitzer Prize winner since A Confederacy of Dunces received the award nearly thirty years before--is as extraordinary as the elegant prose within it. Inspired by his family's history, Paul Harding began writing Tinkers when his rock band broke up. Following numerous rejections from large publishers, Harding was about to shelve the manuscript when Bellevue Literary Press offered a contract. After being accepted by BLP, but before it was even published, the novel developed a following among independent booksellers from coast to coast. Readers and critics soon fell in love, and it went on to receive the Pulitzer Prize, prompting the New York Times to declare the novel's remarkable success "the most dramatic literary Cinderella story of recent memory."
That story is still being written as readers across the country continue to discover this modern classic, which has now sold over half a million copies, proving once again that great literature has a thriving and passionate audience.
Paul Harding is the author of two novels about multiple generations of a New England family: Enon and the Pulitzer Prize-winning Tinkers. He teaches at Stony Brook Southampton.
Bellevue Literary Press, 9781942658603, 208pp.
Publication Date: January 1, 2019
About the Author
Paul Harding is the author of two novels about multiple generations of a New England family: Enon and the Pulitzer Prize-winning Tinkers. He teaches at Stony Brook Southampton.Marilynne Robinson is a Pulitzer Prize-winning novelist and essayist. Her recent books are Lila: A Novel and What Are We Doing Here?: Essays. She lives in Iowa City and is professor emerita at the Iowa Writers' Workshop.
1. Tinkers is told over the course of eight days, as George lies dying—approximately the same amount of time it takes a hand-wound clock to run down. What do clocks symbolize in Tinkers, and why do you think their care and repair is so important to George?
2. After witnessing one of his father's epileptic fits for the first time, George runs away, and his father, Howard, makes a fateful decision. Was it an accumulation of circumstance that led to his decision, or do you think he made it in haste? Do you think George's actions influenced his father? Or do you think Howard's own father's history was more influential?
3. George is very tolerant and forgiving of his mother's bitterness toward his father's illness. What do you think accounts for this? What other roles does illness play in the story? How does it draw the characters together or pull them apart?
4. How do the secrets the family keeps from each other affect the way they interact? How do those secrets color their worldview?
5. During one of George's final revelations, he muses upon his father's life and thinks, ". . . but he was not like a clock or at least was only like a clock to me. But to himself? Who knows? And so it is not he who was like a clock but me." In what ways do different characters' perceptions of themselves reflect their perceptions of their loved ones?
6. The spirituality in this novel is subtle but profound. What do you think the author is trying to say about forgiveness, grace, love, and free will?
7. The author, a former drummer, has said that his experience in a band helped him "keep the time" in this novel. Do you sense that rhythm within the story, and is it the kind of novel you'd expect from a rock musician?
8. The narrative is nonlinear, circling back upon the present day as George explores his own memories and as the histories of his father and grandfather are slowly revealed. By telling the story this way and by merely suggesting certain events and leaving other subjects open-ended, do you feel the author succeeds in inviting readers to open their own imaginations and fully participate in and experience the book?
9. How does the use of contrast work in the novel? For example, what happens when the rational, logical, and orderly passages about the workings of the universe (from the imaginary book The Reasonable Horologist) are set alongside the individual characters' often disorderly, chaotic experiences of their personal lives? Do you think George is attracted to the rational version of the universe because his own experience has been so difficult for him to make sense of?
10. The role that kindness plays in the novel is very evocative. How do the passages about the hermit who returned Howard's kindness with his most precious belonging affect your understanding of both characters? What other acts of kindness are per- formed in the book?
11. In what ways do you see this novel fitting into other classic and contemporary stories of the American experience?