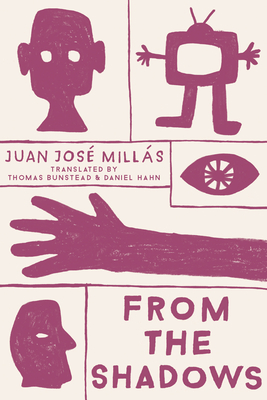 From the Shadows (Paperback)
Bellevue Literary Press, 9781942658665, 208pp.
Publication Date: August 27, 2019
* Individual store prices may vary.
Description
" From the Shadows is] about alienation, loneliness, voyeurism, and the power of fantasy to transform claustrophobic, humdrum lives. Written by one of Spain's most original and important authors and set in contemporary Madrid . . . it is an] allegory that turns middle-class comfort into a desert island." --Public Books
"The narrative of Juan Jos Mill's, our literary Buster Keaton, is inimitable and unique." --La Vanguardia
Laid off from his job, Dami n Lobo obsessively imagines himself as a celebrity being interviewed on TV. After committing an act of petty theft at an antiques market, he finds himself trapped inside a wardrobe and delivered to the seemingly idyllic home of a husband, wife, and their internet-addicted teenage daughter. There, he sneaks from the shadows to serve as an invisible butler, becoming deeply and disastrously involved with his unknowing host family. Every thread of the plot is ingeniously tied together, creating a potent admixture of parable, love story, and thriller. Mill's masterfully reveals the everyday as innately surreal as he renders the unbelievable tangible and the trivial fantastical, and full of dark humor.
Juan Jos Mill s is the recipient of Spain's most prestigious literary prizes: the Premio Nadal, Premio Planeta, and Premio Nacional de Narrativa. A regular contributor to El Pa s, Mill's has also won many awards for his journalism. He is the author of several short story collections and works of nonfiction as well as over a dozen novels, including From the Shadows, the first of his novels to be published in North America. He lives in Madrid.