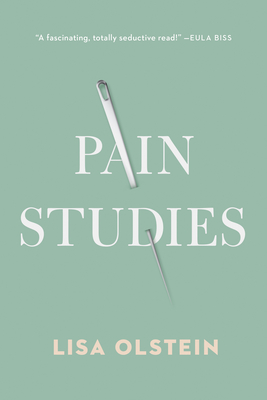 Pain Studies (Paperback)
Bellevue Literary Press, 9781942658689, 192pp.
Publication Date: March 4, 2020
Other Editions of This Title:
Compact Disc (3/10/2020)
MP3 CD (3/10/2020)
* Individual store prices may vary.
Description
"A fascinating, totally seductive read " --Eula Biss, author of Notes from No Man's Land: American Essays and On Immunity: An Inoculation
"A book built of brain and nerve and blood and heart. . . . Irreverent and astute. . . . Pain Studies will change how you think about living with a body." --Elizabeth McCracken, author of Thunderstruck and Bowlaway
"A thrilling investigation into pain, language, and Olstein's own exile from what Woolf called 'the army of the upright.' On a search path through art, science, poetry, and prime-time television, Olstein aims her knife-bright compassion at the very thing we're all running from. Pain Studies is a masterpiece." --Leni Zumas, author of The Listeners and Red Clocks
In this extended lyric essay, a poet mines her lifelong experience with migraine to deliver a marvelously idiosyncratic cultural history of pain--how we experience, express, treat, and mistreat it. Her sources range from the trial of Joan of Arc to the essays of Virginia Woolf and Elaine Scarry to Hugh Laurie's portrayal of Gregory House on House M.D. As she engages with science, philosophy, visual art, rock lyrics, and field notes from her own medical adventures (both mainstream and alternative), she finds a way to express the often-indescribable experience of living with pain. Eschewing simple epiphanies, Olstein instead gives us a new language to contemplate and empathize with a fundamental aspect of the human condition.
Lisa Olstein teaches at the University of Texas at Austin and is the author of four poetry collections published by Copper Canyon Press. Pain Studies is her first book of creative nonfiction.
About the Author
Lisa Olstein is the author of four poetry collections published by Copper Canyon Press: Radio Crackling, Radio Gone, winner of the Hayden Carruth Award; Lost Alphabet, a Library Journal "Best Book of the Year" selection; Little Stranger, a Lannan Literary Selection; and Late Empire. She is a member of the poetry faculty at the University of Texas at Austin where she teaches in the New Writers Project and Michener Center for Writers MFA programs. Olstein also serves as an associate editor for Tupelo Quarterly. Pain Studies (forthcoming from Bellevue Literary Press in March 2020) is her first book of creative nonfiction.