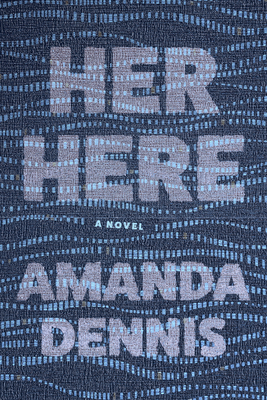 Her Here
Paperback

* Individual store prices may vary.
Other Editions of This Title:
Digital Audiobook (3/8/2021)
Description
"Spellbinding. . . . Wholly engrossing." --Washington Post
"Dennis is in possession of hypnotic narrative gifts and a ferocious intellect. With Her Here, she has claimed her place in the literary world." --Rebecca Makkai, author of Music for Wartime and The Great Believers
"In Her Here, Dennis has written a metaphysical investigation that is also a wonderfully personal account of a daughter coming to terms with the loss of her mother, and a mother coming to terms with the loss of her daughter. As Elena conjures Ella's last days, the richly imagined narrative moves back and forth between Paris and Thailand, carrying both characters and readers to a vivid and suspenseful conclusion." --Margot Livesey, author of The Flight of Gemma Hardy and The Boy in the Field
Elena, struggling with memory loss due to a trauma that has unmoored her sense of self, deserts graduate school and a long-term relationship to accept a bizarre proposition from an estranged family friend in Paris: she will search for a young woman, Ella, who went missing six years earlier in Thailand, by rewriting her journals. As she delves deeper into Ella's story, Elena begins to lose sight of her own identity and drift dangerously toward self-annihilation.
Her Here is an existential detective story with a shocking denouement that plumbs the creative and destructive powers of narrative itself.
An Iowa Writers' Workshop graduate and Cambridge Gates Scholar, Amanda Dennis teaches at the American University of Paris. Her Here is her first novel.
Bellevue Literary Press, 9781942658764, 352pp.
Publication Date: March 9, 2021
About the Author
Born in Philadelphia, Amanda Dennis studied modern languages at Princeton and Cambridge Universities before earning her PhD from the University of California, Berkeley and her MFA from the Iowa Writers' Workshop, where she was awarded a Whited Fellowship in creative writing. An avid traveler, she has lived in six countries, including Thailand, where she spent a year as a Princeton in Asia fellow. She has written about literature for the Los Angeles Review of Books and Guernica, and she is assistant professor of comparative literature and creative writing at the American University of Paris, where she is researching the influence of 20th-century French philosophy on the work of Samuel Beckett. Her Here is her first novel.
1. The first chapter opens with a case of mistaken identity: a stranger believes Elena is a woman she used to know. How does this scene echo the themes of memory, loss, and the longing for connection throughout the novel?
2. The title comes from a line early in the novel, when Elena first discovers Ella's journals and thinks to herself, "I'd rather be her than here." The author has described Elena's task of "translating" Ella's journals as a "quest for identity." What is Elena searching for, about both Ella and herself? How does her immersion in Ella's past influence the decisions she makes in her own life?
3. The story takes readers on a journey through the narrow streets of Paris, among the mango trees and monsoons of Thailand, and to a remote island village. How does the author use sensory details to immerse you in a place?
4. What are both Elena and Ella seeking to discover—or run away from—through travel?
5. In what ways does this story describe universal experiences that young women have coming of age? How do female friendships in the novel influence the characters' lives? Are these relationships more powerful than the romantic ones in the story?
6. The author recounts that a reader once told her "sometimes the mother-daughter bond can hold more tension than a love affair," and much of the book centers on the theme of motherhood. Who are the mother or surrogate mother figures in the characters' lives, and what roles do they play? How do you think Elena's relationship with Ella's mother might evolve after the story ends?
7. What happens to Ella in Elena's telling of her story? What really happens to her? Do you think the two versions are the same?
8. The publisher describes Her Here as "an existential detective story," author Alexandra Kleeman calls it "a ghost story without a ghost," and a bookseller compared it to the suspenseful fiction of Gillian Flynn. How would you describe the plot twists and psychological revelations within the novel? Did you anticipate the ending?