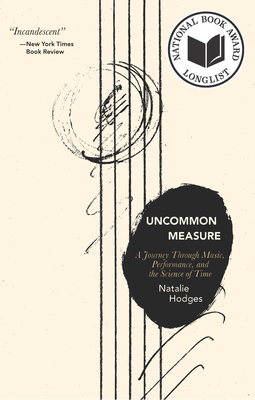 Uncommon Measure
A Journey Through Music, Performance, and the Science of Time
Paperback

* Individual store prices may vary.
Other Editions of This Title:
Digital Audiobook (3/21/2022)
Description
NEW YORK TIMES EDITORS' CHOICE
A virtuosic debut from a gifted violinist searching for a new mode of artistic becoming
How does time shape consciousness and consciousness, time? Do we live in time, or does time live in us? And how does music, with its patterns of rhythm and harmony, inform our experience of time?
Uncommon Measure explores these questions from the perspective of a young Korean American who dedicated herself to perfecting her art until performance anxiety forced her to give up the dream of becoming a concert solo violinist. Anchoring her story in illuminating research in neuroscience and quantum physics, Hodges traces her own passage through difficult family dynamics, prejudice, and enormous personal expectations to come to terms with the meaning of a life reimagined--one still shaped by classical music but moving toward the freedom of improvisation.
Praise For Uncommon Measure: A Journey Through Music, Performance, and the Science of Time…
"Natalie Hodges is a musician with a poet's soul and a writer with a musician's heart. Her prose partita, Uncommon Measure, is an extraordinary translation of music, devotion, and sorrow into the literary, recounting her relinquishment of a performance career and her continued love of music. In these pages, if no longer on the stage, she is brilliantly making us hear." —Susan Faludi, author of Backlash and In the Darkroom
"Uncommon Measure is astonishingly assured and inventive. Mixing personal reflection, reportage, literary criticism, music theory, neurology, even evolutionary studies, Hodges has pulled off something singular and wonderful. From the first page to the last, the book rides on the high wire of Hodges's virtuosic voice. It is shot through with a sinuous, luminous energy." —Darcy Frey, author of The Last Shot: City Streets, Basketball Dreams
"There is not a sentence in Hodges's Uncommon Measure that does not illumine, not a single insight that doesn't lead on to a still greater one, not a moment that does not open us to wonder. In searching and visionary prose, Hodges comes close to creating a new language, one of continual questioning and delight. This is an exquisite book to be read and reread, a treasure." —Richard Hoffman, author of Half the House and Love & Fury
"Hodges is a new, valuable voice in the world of music making and music writing. She moves with elegance from her own experience as a violinist to the scientific underpinnings of her subject: from math, physics, and neurology to quantum mechanics, biology, and entanglement theory. Uncommon Measure is a welcome debut from a wonderfully talented writer." —Annik LaFarge, author of Chasing Chopin
Bellevue Literary Press, 9781942658979, 224pp.
Publication Date: March 22, 2022
About the Author
Natalie Hodges has performed as a classical violinist throughout Colorado and in New York, Boston, Paris, and the Italian Piedmont, as well as at the Aspen Music Festival and the Stowe Tango Music Festival. She graduated from Harvard University, where she studied English and music, and lives in Denver, Colorado. Uncommon Measure is her first book.