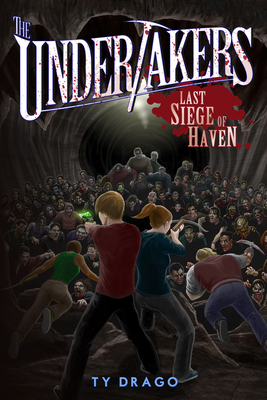 The Undertakers (Paperback)
Last Siege of Haven
Month9Books, LLC, 9781942664000, 250pp.
Publication Date: May 12, 2015
Other Editions of This Title:
Paperback (3/25/2014)
* Individual store prices may vary.
Description
While away on an undercover mission, undertaker Will Ritter has made an unthinkable alliance—with a Corpse! The zombie prince, Robert Dillin, is an alien invader who animates and possesses the bodies of the dead, but unlike the rest of his kind, Dillin isn't evil. In fact, he wants to help. Ritter is willing to take all the help he can get because the Queen of the Dead has learned the location of Haven, the undertakers' secret headquarters, and she is planning a massive and deadly assault. With the last day of the Corpse War finally upon them, Will and his friends find themselves in a desperate race to close the Rift between worlds and forever kill the Corpses. But can they do it before Haven is overrun?
About the Author
Ty Drago is a writer whose short fiction has appeared in numerous publications and whose articles have appeared in Writers Digest. He is the author of Phobos, The Undertakers: Queen of the Dead, The Undertakers: Rise of the Corpses, and The Undertakers: Secret of the Corpse Eater. He lives in Cherry Hill, New Jersey.
Praise For The Undertakers: Last Siege of Haven…
 "Drago writes with an age appropriate tone, but one that is not condescending to older readers – the story is still, after all, a robust exploration of the genesis of a zombie invasion of our world."  —Daimion, blogger, The Word Zombie on The Undertakers: Rise of the Corpses
 "The Undertakers: Rise of the Corpses is a fantastic book and is also both interesting and fun to read. Brilliantly written by Ty Drago, with great characters, an edgy story and many grim twists, this is a highly recommendable novel and one of the best I've read in a long time."  —Ed, blogger, Necropunk on The Undertakers: Rise of the Corpses
"A fun read to spark the interest of reluctant readers and hopefully give them the push they need to start reading!" – Jason, blogger, My Overstuffed Bookshelf on The Undertakers: Rise of the Corpses