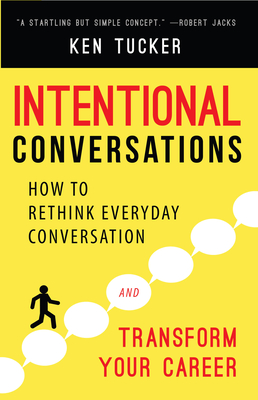 Intentional Conversations
How to Rethink Everyday Conversation and Transform Your Career
Paperback

* Individual store prices may vary.
Description
Using six steps and a "SECRET" formula, international speaker, Fortune 500 strategist, and bestselling management author Ken Tucker explores the challenging skill sets required to navigate conflict and crucial conversations effectively. 
Drawing upon decades of experience in the corporate and government worlds, Tucker teaches leaders how to say what they really need to say and say it right so that their people and organizations execute the results they want and need. 
Intentional Conversations includes:
Context and conversations that lead to good results and those that don't.
How leaders can use the "SECRET" process to enhance their success at work and in life.
Creative sidebars and QR media links that illustrate the principles in the book.
Praise For Intentional Conversations: How to Rethink Everyday Conversation and Transform Your Career…
"Conversation seems like such a natural thing. But is it? Ken Tucker thinks it is more important than we realize—and that we need to learn how to converse! With intriguing insights and revealing stories he helps us to understand how conversation can be intentional, rewarding, and enriching in work, family, and everyday life."
—Leighton Ford, President, Leighton Ford Ministries
"This is a much needed book—the key frustration between employers and employees in conversation is that some genuinely do not know how to have a dialogue; and when they do, there often is void because of what was or was not said. Providing a tool to help people positively construct a conversation is fantastic. I also like your use of analogies in the book."
—Florence Hamm, Consultant
"What I love about Ken's writing is that before he writes about something, he has lived it, which gives a depth of understanding and credibility to the content. His theories on leadership are proven because he has seen them work personally and tested them in organizations around the globe. Intentional Conversations will shake up how you think about conversations. Ken will set you on a new trajectory to creating productive conversations that advance mission-critical organizational objectives, promote relational longevity and take the fear out of difficult interactions. Using the practical tools provided in Intentional Conversations is like having a personal conversation coach guiding you each step of the way!"
—Jenny Rain, Communications Director
"Ken's new book is very profound. What a startling but simple concept that can strategically enhance relationships in organizations, groups, and marriages. The SECRET concept is rememberable and easy to embrace. Ken brings forth in Intentional Conversations how beneficial having a meaningful conversation really is, but the true power of the book is that it clearly explains how to have an intentional conversation."
—Robert Jacks, Vice President of professional services for Agilysys, inc
"I found the read engaging, well exemplified, and both logical and easy to understand. Learning to engage in Intentional Conversations becomes habitual with lots of practice, desire, and collaboration."
—Dr. Scout Cloud Lee, founder and CEO of Vision Us, Inc.
"The emphasis on being intentional in conversation, especially crucial conversations, is excellent. I enjoy the usage of the idea that I have 'SECRET Opportunities' in conversations. The exercises at the end of the book are excellent in that they demonstrate clearly the need to practice conversations. It is a skill and art to flawlessly and effortlessly exercise humility and apply assertiveness."
—Joe Henriques, Tysons Campus Pastor and Director of Training at McLean Bible Church
Endorsements
Familius, 9781942672906, 156pp.
Publication Date: August 11, 2015
About the Author
As a thought leader, Ken Tucker brings many years of being a highly sought-after speaker and principle consultant, formerly with The Gallup Organization, then as strategic consultant and CEO of Ken Tucker and Associates, LLC, and now as a senior partner at TAG Consulting. He is the author of Intentional Conversations (Familius, 2015), coauthor of Animals, Inc: A Business Parable for the 21st Century (Warner Books, February 2004) and author of Are You Fascinated? The Four People You Need to Succeed (Dailey Swann Publishing, August 2009), and coauthor of The Leadership Triangle, along with Todd Hahn and Shane Roberson of Your Intentional Difference: One Word Changes Everything. He is a regular contributor to management columns.
or
Not Currently Available for Direct Purchase