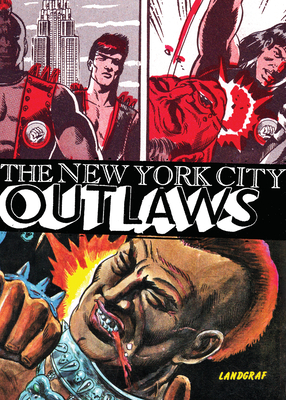 The New York City Outlaws
Paperback

* Individual store prices may vary.
Description
A staggering whirlwind of vigilante chaos, the savagely inspiring New York City Outlaws heralded the '80s self-publishing boom.
In just five issues -- all long unavailable; presented here with unseen material -- writer Bob Huszar and iconic cartoonist Ken Landgraf (Apocalypse 5000) shredded the rules and drowned them in blood. Essential.
When night becomes darkest there will arise those who fight for the dawn...
FREEZE SUCKERS And get ready to throw down with THE NEW YORK CITY OUTLAWS:
TITAN - Johnny Apollo; two-fists-of-fury from the land of mermaids
WHAMO - Chung Kii; ecstatic dance-fighter with a mutual respect for life and anger
POLYMIXIN - Daniella Marques; like a moth to her flame all men are incinerated by her rage
ZEBRA - Hector Rodriguez; street punk with brains and an incurable romantic to boot
ISAAC - Bernie Schwantzman; electronic wizard with a devilish passion for gardening
THUNDERCLAP JONES; sustained by anger he's the forever warrior brawling his way through the slime and stink of this foul city
and PATCH - Peter Dinero; his kid brother was killed by the mob Thus igniting the fuse that brought together a group whose association was unlikely - and explosive. Can this group of incongruous adventurers meet the challenges that fate has thrown them?
Never before has the pen and ink page captured the violence and terror of the deadly city THE NEW YORK CITY OUTLAWS fight war mongers and street-crime vigilantes in a never-ending battle against crime
Backflipping out of a helicopter, Floating World Comics, Power Comics, and Monster Fan Club bluntly present Ken Landgraf's 80s masterpiece of blood soaked urban mayhem Check your underwear before you attempt to pick up this cast-iron omnibus collecting all 5 issues, 3 broken fists full of cracked bonus material, and a new, exciting way to live your life Can you feel the rats gnawing on your ankles?

Floating World Comics, 9781942801320, 304pp.
Publication Date: November 14, 2023