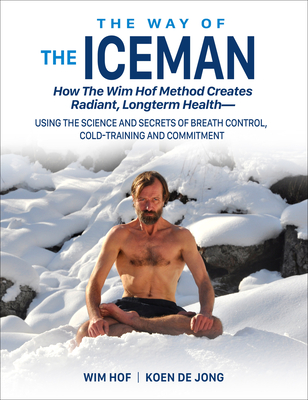 The Way of the Iceman (Paperback)
How the Wim Hof Method Creates Radiant, Longterm Health--Using the Science and Secrets of Breath Control, Cold-Trainin
Dragon Door Publications, 9781942812098, 168pp.
Publication Date: February 26, 2017
* Individual store prices may vary.
Description
Science has now proved that the legendary Wim Hof Method of breath control and cold-training can dramatically enhance energy levels, improve circulation, reduce stress, boost the immune system, strengthen the body and successfully combat many diseases. While Wim Hof himself has run marathons in -30 C in shorts, swum hundreds of meters under the ice, sat in a tank of ice for 90 minutes without his core temperature changing and boosted his metabolism by over 300%, The Way of The Iceman documents how anyone can use Wim's methods to transform their health and strength, quickly and safely.
"After teaching specialized breathing techniques to SEALs for years, helping them focus, stay warm in the cold ocean and get centered in combat, I can attest to the authenticity and power of Wim Hof's methods. Wim Hof is providing a great service with his new book The Way of The Iceman by bringing breath training and simple, powerful health practices into mainstream consciousness."
--Mark Divine, US Navy SEAL (ret), Founder SEALFIT, Best selling author of Unbeatable Mind and Way of the SEAL
‪
"I am continuously searching for ways to expand my mind, body and spirit--Wim Hof and The Way of The Iceman have done just that He shows us that human potential is limitless and we are ALL capable of anything we set our minds to."
‪--Lewis Howes, New York Times bestselling author of The School of Greatness
"What fascinates me most about Wim Hof's method is the potential application for athletes...the science in this book shows that we can all amplify our recovery, maximize our pain tolerance, massively jack up energy levels and even learn to control inflammation...and it can be done without resorting to toxic drugs. In fact, the system outlined in this manual might just be the key to producing a generation of enhanced but drug-free athletes."
‪--Paul "Coach" Wade, author of Convict Conditioning
"Inspiration inspires. What I like most about Wim and his book is how he taught me to trust my body, overcome fear and give me the best opportunity for success. He mixes personal experience and science--which becomes truly motivating. Wim provides the tools you need to master self-discipline, gain courage and live a vibrant life. He is Aquaman and Tony Robbins rolled into one. He is The Iceman "
--Jesse Itzler, author of Living With A SEAL
"Homo sapiens is a species that is uniquely and tragically ill-adapted to our environment. Maladies ranging from heart disease to diabetes to autoimmune disorders are generated by the mismatch between the natural world we evolved to live in and the artificial realms in which we find ourselves today. Wim Hof's teachings show us how to recalibrate our bodies in a way that recognizes the extremes of our natural environment as teachers to be celebrated and consulted, rather than enemies to be insulated against. Wim's deepest insights resonate with our hunter-gatherer ancestors, who understood the wisdom of adapting to the natural world rather than trying to dominate and control it."
--Christopher Ryan, PhD., New York Times best-selling author of Sex at Dawn
"We live in a chaotic modern world with daily assaults on our health from frenetic schedules, poor sleep, high stress, chronic disease, and infectious illness. Our brain and nervous system have been highjacked by this toxic environment, always on high alert with real consequences to our physical and mental health.
With The Way of The Iceman, Wim Hof has given a profound gift to public health. The science is solid and the results actual and measureable. As you follow his remarkable life story it is readily apparent that this man is no charlatan or snake oil salesman.
Through years of commitment and self-experimentation, Wim has empirically figured out how to exert significant control over the autonomic nervous system, a feat once thought impossible. His method has held up to scrutiny under the dispassionate lens of science, expanding our knowledge of what is possible with dedicated training in what is now known as the Wim Hof Method.
Deceptively simple, and incredibly powerful, The Way of the Iceman gives you not only the scientific framework, but actionable steps you can implement to take back control over your high-jacked brain, increase resilience from illness, and start healing yourself from the inside out. The Wim Hof Method has become a cornerstone in my personal daily wellness plan, and as a public health physician, I cannot recommend it highly enough."
--Dr. Chris Hardy, D.O. MPH, CSCS, Public Health Physician, Integrative Medicine Specialist
"The Way of The Iceman is one of only two books in my life that I have read cover to cover the first time I put my hands on it.
What won me over was the simplicity of the explanations of diabetes, inflammation and the family of modern ills. Moreover, the discussion on diet, just a brief mention of 'Fast-Five, ' is the first time I actually understood not only how inflammation is such an issue, but a means to deal with it.
This book is the m.
or
Not Currently Available for Direct Purchase