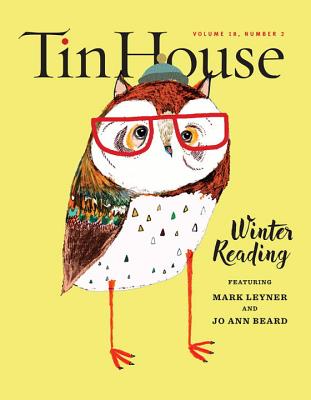 Tin House
Winter Reading 2016 (Tin House Magazine #70)
Paperback

* Individual store prices may vary.
Other Editions of This Title:
Paperback (12/16/2014)
Paperback (12/10/2013)
Description
The Winter 2016 issue of Tin House features new fiction, essays, and poetry from longtime favorites and new voices.
Thaw your icy heart with Tin House this Winter. Pour a mug of hot cocoa and cozy up with new fiction, essays, and poetry from fireside favorites and discover New Voices for the new year.
Tin House Magazine, 9781942855071, 225pp.
Publication Date: December 27, 2016
About the Author
Win McCormack is publisher and editor-in-chief of Tin House magazine. He has been in the magazine and book publishing business since 1976. He published Oregon Magazine from 1976 to 1988, and has also been involved in publishing Oregon Business, Oregon Home, Travel Oregon, Military History Quarterly, and Art and Auction magazines, and was involved in the start-up of Mother Jones. He is editor of the books Profiles of Oregon, Great Moments in Oregon History, and The Rajneesh Chronicles, and won a William Allen White award for his investigative coverage of the Rajneesh cult from 1982-1986. He writes on politics and wrote the article "Deconstructing the Election: Foucault, Derrida and GOP strategy," about the presidential election debacle in Florida in 2000, for the Nation. He holds a BA in Government from Harvard College and an MFA in Creative Writing from the University of Oregon.

Rob Spillman is editor of Tin House magazine and executive editor of Tin House Books. He was previously the monthly book columnist for Details magazine and is a contributor of book reviews and essays to Salon and Bookforum. He has written for the Baltimore Sun, the Boston Review, British GQ, Connoisseur, Details, Nerve, the New York Times Book Review, Premiere, Rolling Stone, Spin, Sports Illustrated, SPY, Vanity Fair, Vogue, and Worth, among other magazines, newspapers, and online magazines. He has also worked for Random House, Vanity Fair, and the New Yorker.

Holly MacArthur lives in Portland, OR.
or
Not Currently Available for Direct Purchase