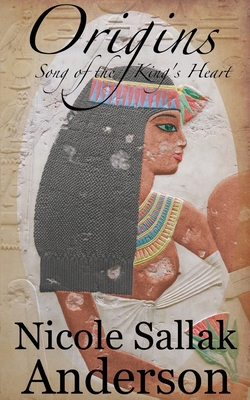 Origins
Song of the King's Heart
Paperback

* Individual store prices may vary.
Description
In the year 205 B.C., after centuries of Persian and Macedonian occupation, a rebel king rises from the south to take ancient Egypt back unto native hands. He will battle the Ptolemy line for twenty years, and rule almost eighty percent of Egypt, yet in the end, history will never mention his name.
Born Prince Ankhmakis, the last in a line of native Egyptian kings, he is raised with one purpose--to help his father reclaim Egypt from the Macedonian occupiers and return their country to dynastic greatness. Fate, however, has its own plans. For lies and deceit live in the hearts of all involved, from his family to the priesthood, and the Greeks aren't the only ones who seek to destroy him.
Natasa is in training to become the High Priestess of the temple of Isis. Her task is to strengthen the royal family with the magic of the goddess through love and pleasure. She never thought the connection between her and Ankhmakis could be so strong, or carry a power coveted by those lurking in the shadows. Nor did she know that the child they would create would have her own great destiny to fulfill.
Together, Ankhmakis and Natasa must defend the potential of their love from those who would seek to use it for their own gain. Theirs is a world of magic, power, riches, and lust, and there are those within the court who would do anything to keep Ankhmakis and Natasa apart. Between mystical forces, murder, and illicit schemes--only the gods know if they'll survive.
Literary Wanderlust, 9781942856405, 352pp.
Publication Date: October 1, 2019