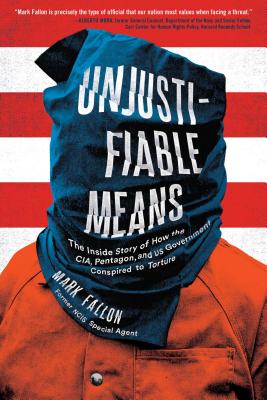 Unjustifiable Means
The Inside Story of How the CIA, Pentagon, and US Government Conspired to Torture
Hardcover

* Individual store prices may vary.
Other Editions of This Title:
MP3 CD (5/29/2018)
Description
The book the government doesn't want you to read.

President Trump wants to bring back torture. This is why he's wrong.

In his more than thirty years as an NCIS special agent and counterintelligence officer, Mark Fallon has investigated some of the most significant terrorist operations in US history, including the first bombing of the World Trade Center and the 2000 attack on the USS Cole. He knew well how to bring criminals to justice, all the while upholding the Constitution. But in the aftermath of September 11, 2001, it was clear that America was dealing with a new kind of enemy. Soon after the attacks, Fallon was named Deputy Commander of the newly formed Criminal Investigation Task Force (CITF), created to probe the al-Qaeda terrorist network and bring suspected terrorists to trial. Fallon was determined to do the job the right way, but with the opening of Guantanamo Bay and the arrival of its detainees, he witnessed a shadowy dark side of the intelligence community that emerged, peddling a snake-oil they called "enhanced interrogation techniques."

In Unjustifiable Means, Fallon reveals this dark side of the United States government, which threw our own laws and international covenants aside to become a nation that tortured—sanctioned by the highest-ranking members of the Bush Administration, the Army, and the CIA, many of whom still hold government positions, although none have been held accountable. Until now.

Follow along as Fallon pieces together how this shadowy group incrementally—and secretly—loosened the reins on interrogation techniques at Gitmo and later, Abu-Ghraib, and black sites around the world. He recounts how key psychologists disturbingly violated human rights and adopted harsh practices to fit the Bush administration's objectives even though such tactics proved ineffective, counterproductive, and damaging to our own national security. Fallon untangles the powerful decisions the administration's legal team—the Bush "War Counsel"—used to provide the cover needed to make torture the modus operandi of the United States government. As Fallon says, "You could clearly see it coming, you could wave your arms and yell, but there wasn't a damn thing you could do to stop it."

Unjustifiable Means is hard-hitting, raw, and explosive, and forces the spotlight back on to how America lost its way. Fallon also exposes those responsible for using torture under the guise of national security, as well as those heroes who risked it all to oppose the program. By casting a defining light on one of America's darkest periods, Mark Fallon weaves a cautionary tale for those who wield the power to reinstate torture.
Praise For Unjustifiable Means: The Inside Story of How the CIA, Pentagon, and US Government Conspired to Torture…
"Mark Fallon is the Serpico in the war on terror, trying to win the war by doing it the right way. Unjustifiable Means provides an inside look at counterterrorism operations and the sacrifices that good people make to win that war. Fallon shows how torture has made us less safe and that it may make people talk, but it doesn't make them tell the truth." —Bill Dedman, Pulitzer Prize–winning investigative reporter and Senior Writer, Newsday

"Americans need to know how we went wrong and how we have not recovered from having engaged in torture as a nation. Read Unjustifiable Means to feel necessary anger at what we have done to ourselves, to learn what happened, to see how America can protect itself, and to feel proud that men and women like Mark Fallon embody what a true American hero is." —Glenn L. Carle, former CIA Operations Officer and author of The Interrogator

"Fallon's insider account of what our country lost—in intelligence and integrity—when it resorted to torture is chilling. A must-read for all who want to understand not only how it happened, but also the unfinished business of making sure it never happens again. When the history of the post-9/11 period is written, Fallon's name will be among the heroes." —Elisa Massimino, Chief Executive Officer, Human Rights First

"Mark Fallon is precisely the type of official that our nation most values when facing a threat: tough, courageous, experienced, and—no less important—fiercely faithful to the laws and values that define our country. Unlike some others in the Bush administration, he did not take his oath of office to condone illegality, incompetence, or dishonor, no matter how high the rank of the official ordering otherwise. By speaking out against and refusing to participate in the abuse of enemy captives, Fallon and his NCIS colleagues defended their integrity and our nation." —Alberto Mora, former General Counsel, Department of the Navy and Senior Fellow, Carr Center for Human Rights Policy, Harvard Kennedy School

"If we are to make intelligent decisions about the future, Americans must know the truth about what their government has done in the past. This book shines a light on a dark chapter of our history. Required reading for anyone who loves our country." —Kermit Roosevelt, Professor of Law, University of Pennsylvania Law School and author of Allegiance

"Fallon's account is essential reading for those who wish to understand this dark period in American history, and its destructive consequences for law, justice, and ultimately, for the security of the United States." —Karen J. Greenberg, Director, Center on National Security, Fordham Law and author of Rogue Justice and The Torture Papers

"Mark Fallon is a true patriot and professional. In the wake of the shocking attacks of 9/11, he didn't panic. He opposed torture and marched forward with dedication and discipline to protect the country. He tackled his missions with quiet heroism, speaking truth to power, and steadfastly abiding by American values and the law. The nation is safer because of Mark Fallon and his team." —Stephen N. Xenakis, MD and US Brigadier General (Ret)

"Mark Fallon's strategic intelligence and interrogation chops are unsurpassed among professionals who are the best of the best. This long-awaited book is a must-read for national security policy makers and operators." —Brigadier General David R. Irvine, Army Strategic Intelligence Officer (Ret)

"Mark Fallon's account of Bush-era interrogation policies and practices is a must-read for anyone wanting an insider understanding of how the United States ended up condoning torture in the race to stop terrorist activities post-9/11. Unjustifiable Means makes plain how the decision process and choices of powerful insiders permitted groupthink to dominate the discourse on intelligence gathering. This book stands as a powerful counter-narrative to the official monologue on 'enhanced interrogation techniques' in the hopes that the United States will never go down that road again. Mark Fallon's story will inspire you to stand with courage and integrity in confronting wrongs, despite incredible odds and overwhelming obstacles, because character and truth will not be silenced. —Deputy Chief Roy H. Bethge (Ret), cofounder, The Virtus Group, Inc.

"Mark Fallon's Unjustifiable Means, recounting his actions of faith, courage, and duty to challenge the government's torture practices, shined a light in a place many did not want to see—or be seen. Unjustifiable Means is not the end, but rather the beginning, of the story of great change in interview practices. The legacy of Fallon's actions will be felt throughout the military, intelligence, and law enforcement professions for generations. —Timothy Janowick, Chief of Police, Mount Prospect (Illinois)

"Mark Fallon has dedicated virtually his entire adult life to protecting the people of our country as a federal law enforcement officer at home and abroad. In that role, he swore to uphold the Constitution and the laws of the United States. His first person account raises important considerations about honoring that rule of law while respecting human rights." —Robert W. McKenna, Associate Dean, School of Justice Studies, Roger Williams University

"Unjustifiable Means is more than just a firsthand account of America's descent into torture and of the terrible costs of that descent. It is also a vital warning for future generations against the temptations of practices that are illegal, immoral, and horrifically counterproductive." —Barry Eisler, former Directorate of Operations, CIA and author of the bestselling Livia Lone

"In one of the most shameful chapters in US history, government officials authorized the systematic torture of national security detainees, aided and abetted by health professionals who helped create, supervise, and implement the US torture program. Fallon's book sheds light on the torture that was committed in the name of all Americans and is a critical step in the accountability for such crimes." —Vincent Iacopino, MD, PhD, Senior Medical Advisor for Physicians for Human Rights, Adjunct Professor of Medicine at the University of Minnesota Medical School, and Senior Research Fellow at the Human Rights Center, University of California, Berkeley

"Unjustifiable Means is a wakeup call of epic proportions. Mark Fallon takes us on a personal journey deep into the world of counterterrorism and reveals how officials systematically cast aside the universal principles of justice and human rights during prisoner interrogations. The evidence is clear: these illicit techniques did not work and they didn't yield quality intelligence. This is also a story of unselfish personal courage and ethics—of speaking truth to power and coming face-to-face and toe-to-toe with some of the most powerful democratic institutions in the world. This book is a must-read for every leader, practitioner, and policymaker who is personally committed to doing the right thing." —Cal Corley, Assistant Commissioner (Ret), Royal Canadian Mounted Police, Ottawa, Canada

"Fallon's book is a lesson on how to confront terror without betraying our humanity." —Juan Mendez, Professor of Human Rights Law in Residence and Commissioner, International Commission of Jurists, and former UN Special Rapporteur for Torture and Human Rights

"A critically important book. Mark's commitment to truth, justice, and always 'doing the right thing' has been at his core. I was the Director of NCIS when Mark brought disturbing information to me regarding potential detainee abuse—he was forceful and unrelenting in pushing information forward. Because of Mark's refusal to simply follow what others were doing, we were able to identify wrongdoing and become a forceful catalyst for policy change. Mark has no peer in his demand for truth and fairness." —Dave Brant, Former Director, Naval Criminal Investigative Service
Regan Arts., 9781942872795, 240pp.
Publication Date: October 24, 2017
About the Author
Mark Fallon is an international security consultant and a career national security professional. He spent more than thirty years in government, twenty-seven of them with Naval Criminal Investigative Service (NCIS) and two as a member of the Senior Executive Service within the Department of Homeland Security. Fallon has spoken publicly and written extensively on the subject of criminal detention and interrogation procedures and continues to be a vocal advocate for human rights.