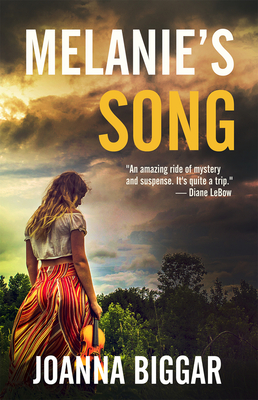 Melanie's Song
Paperback

* Individual store prices may vary.
Description
Five young college women from California who shared their junior year in Paris once banded together to form a network of friendships they believed would last all their lives. Twelve years later, one goes missing. The instigator of the Paris trip, J.J., now a journalist, decides to uncover the fate of the missing Melanie Hart on a quest both professional and personal. Last seen, Melanie was the meek, besotted wife of a young classical musician. Now, rumors abound: Melanie had a breakdown and left him. She was seen at Woodstock. She was running drugs. She became a mystic, a mother, a radical. She may be on the lam. She may be dead. J.J.'s investigation leads her into a world of off-the-grid radical activists and bad cops, as well as the Hart family's own carefully constructed version of events. Played out against a background of Vietnam War protests, the Watergate scandal, and Richard Nixon's eventual resignation, J.J.'s investigation calls into question the very nature of choice, and what it means to lead an authentic life.
Praise For Melanie's Song …
"We walk Paris streets with Joanna Biggar's voice — funny, perceptive and unswervingly and uniquely her own. In every word and phrase and nuance, nothing is borrowed or copied. Her descriptions transport the reader down cobble-stone streets and into scenes where we find ourselves remembering our own youthful adventures." —Gail Strickland on That Paris Year

"That Paris Year offers a luscious, poetic view of the City of Lights, a nostalgic glimpse of life in the 60s, a timeless look at the choices young women make on their way to adulthood. Make room in your suitcase for this one." — Anne Sigmon on That Paris Year

"Melanie's Song is like a sweetly familiar refrain from the not-so-distant past. Nostalgic, redolent with the sights and sounds of the sixties and seventies... It is a bittersweet delight." —Patricia Bracewell, author of Shadow on the Crown and The Price of Blood

"Biggar's writing, both crisp and lyrical, draws you into each scene with suspense and tempting detail. It's quite a trip." —Diane LeBow, President emerita, Bay Area Travel Writers

"Joanna Biggar is a marvelous storyteller, and Melanie's Song is an unputdownable, riveting feat of storytelling."—Nandini Bhattacharya, The Literary Review
Santa Fe Writer's Project, 9781942892106, 350pp.
Publication Date: October 1, 2019
About the Author
A native Californian, Joanna Biggar is a fiction and travel writer, journalist and teacher, and co-founder of the international travel writers' workshop, Wanderland Writers. Her articles, profiles, and travel writing have been appeared in hundreds of publications. For four decades, she has been a teacher of creative writing, journalism, essay writing, and literature on both coasts and abroad.
or
Not Currently Available for Direct Purchase