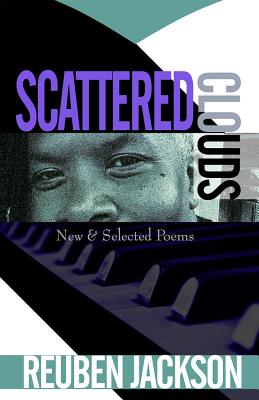 Scattered Clouds
New & Selected Poems
Paperback

* Individual store prices may vary.
Description
Scattered Clouds: New & Selected Poems is a volume of lyrical, emotionally forthright meditations on love, loss, and longing. The poems are often sobering, but they are not, to quote Langston Hughes, "without laughter." Scattered Clouds contains the complete text of the author's award-winning first collection, fingering the keys; his nationally lauded poem, "For Trayvon Martin"; and his wry, unabashedly romantic suite of ruminations on a long-time and deeply missed friend, the late barbershop owner Amir Yasin, and his widow Khadijah Rollins. These poems, exploring Amir's late-life romance with Kadijah, became a national internet sensation. An introduction by poet Abdul Ali (Cave Canem alumni and author of Trouble Sleeping) places Jackson in his rightful context as a Black American poetry elder, who has influenced generations of younger poets with his musical wisdom as well as his poetry. 
Praise For Scattered Clouds: New & Selected Poems …
"Jackson is a gentle, sensitive man with a poet's sympathetic eye and a jazz musician's melancholy soul. He's a born teacher, patient and generous with his philosophical insight, and he's an unabashed romantic. But when the mood strikes—say, when he ruminates on being a black man in lily-white Vermont—his comments can cut to the bone." —Dan Bolles

"Reuben Jackson's poems are gateways to possible worlds. With the finesse of a real sleight of hand artist, he transforms the truly personal into universal memories." — Richard Peabody

"Abashedly, I admit that I had not read Jackson prior to reading Scattered Clouds. But that is exactly why this compilation of poems from his first book with the two sections of newer poems is such a gem. If some of the poems are familiar, you will nod as you read them. And if not, you will feel like you've been missing something. Scattered Clouds further establishes Jackson's role as a steward of Americana." —Risa Denenberg. PANK magazine

"Reuben Jackson's marvelous collection also includes recent work on Amir Yasin, a Detroit barber, and his love, Khadijah Rollins, who may or may not be real people posting on Jackson's Facebook page, and his moving poem, "For Trayvon Martin." This is a delightful and insightful read." —Charles Rammelkamp, The Lake Poetry

"Read Reuben Jackson and begin to see the people who live and have lived here, behind and beneath the explosion of cranes and concrete, and maybe you or we will find new spaces to be present." —Janice Lynch Schuster
Santa Fe Writer's Project, 9781942892182, 130pp.
Publication Date: October 1, 2019
About the Author
Reuben Jackson was born in Augusta, Georgia and grew up in Washington, DC. A music scholar and critic of national reputation, he was archivist and curator with the Smithsonian's Duke Ellington Collection from 1989 to 2009; his music reviews have appeared in The Washington Post, Washington City Paper, Jazz Times, Jazziz, and on National Public Radio. He was host of Friday Night Jazz on Vermont Public Radio from 2012 until 2018 and makes frequent appearances on WPFW, Washington DC's publicly-supported radio station dedicated to jazz and justice.