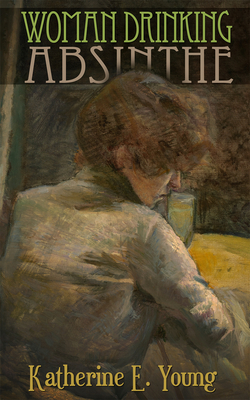 Woman Drinking Absinthe
Paperback

* Individual store prices may vary.
Description
From the naïve girl who willfully ignores evidence of Bluebeard's crimes, to Manet's dispirited barmaid at the Folies-Bergère, to the narrator of the book's opening sequence, who sacrifices domestic security for a passionate lover who will eventually abuse her, the women of these poems brush abandon convention at their peril, even though convention also imperils their bodies, their spirits, and their art. In this second collection, Young—whose earlier Day of the Border Guards explored Russian history and literature—continues to employ what she's learned from the great Russian writers she often translates. Like Marina Tsvetaeva, who makes a cameo appearance here, Young finds literary touchstones among sources as varied as German folk tales, Greek drama, and the Old Testament. Whether tracing the elements of Euclidean geometry or the terrain of a Civil War battlefield in Tennessee, these poems ask the hard questions: Why does love fail? How can art come from pain? What heals the soul?
Praise For Woman Drinking Absinthe…
"Woman Drinking Absinthe is unflinchingly honest and lyrical in exploring illicit love, its allure, its dangers. Indeed, she's very persuasive in contending that, forbidden or not, "love's the only thing worth fighting for." —Charles Rammelkam, Compulsive Reader
 

Blurbs for previous book:

"Katherine Young's Day of the Border Guards is very much about crossing borders – those between reality and, in this case, Russia. Which to say she offers us a Russia of direct experience and the transformed country of the imagination. Her text is dense with marvelous detail, dramatic intensity, and intentions that are unmistakable in their insight and judgment. Young chooses to represent both herself and the voices of various personae, sometimes, in fact, as one blended voice: hers and Akhmatova, hers and Mandelstam." —Stanley Plumly

 

"Here is a poet capable of unveiling humanity with a vibrancy that lingers. Even a dezhurnaya—or museum docent/guard—gains relevance alongside figures as eminent as Osip Mandelstam and Mikhail Lermontov. Here is a writer whose lyricism resonates in the reader's mind long after closing the book. This debut collection is a standout for a writer who is well-versed in the art of observation." —Carolyn Kreiter-Foronda

 

"In Day of the Border Guards, Katherine Young examines what it means to be a poet of witness. And what she's a witness to happens to be nothing less than the Soviet Union before the fall. Hers is a journey haunted by the ghosts of Pushkin and Bulgakov ("I could be myself, or any one / of Pushkin's women, or Margarita walking / the alleys with yellow flowers in her arms"), the ghosts of dissident poets like Osip Mandelstam, and the personal ghosts of romantic disappointment and philosophical doubt (is she a witness who sees but feels nothing? or is she unable to see at all?). Young's odyssey is staggering in its scope and vision, but poetry lives in the details and here there are innumerable places where the poetry simply takes your breath away. In "Nearing Chernobyl," for example, Young writes: "For there's enchantment aplenty here: / the cold wheeling of comets, breath / of the sun howling down on the rump / of a woman peeing by a tree in Ukraine. / I carry the dust of the universe on my shoes." Lines any poet — even Pushkin or Lermontov or Mandelstam — would be proud of." —John Surowiecki
Alan Squire Publishing, 9781942892243, 72pp.
Publication Date: March 1, 2021
About the Author
Katherine E. Young is the author of Day of the Border Guards, 2014 Miller Williams Arkansas Poetry Prize finalist, and two chapbooks. Her poems have appeared in Prairie Schooner, The Iowa Review, Subtropics, and many others. She is the translator of Farewell, Aylis by Azerbaijani political prisoner Akram Aylisli and Blue Birds and Red Horses and Two Poems, both by Inna Kabysh. Young's translations of contemporary Russian-language poetry and prose have won international awards; several translations have been made into short films.