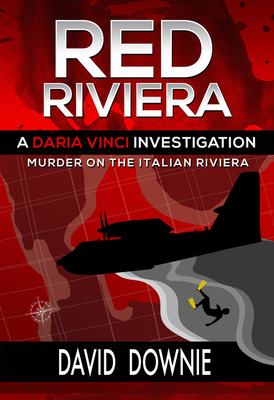 Red Riviera
A Daria Vinci Investigation (Daria Vinci Investigations)
Paperback

* Individual store prices may vary.
Description
Its jaws open wide, a firefighting seaplane skims the glittering Gulf of Portofino on Italy's jagged Ligurian coast, scooping up a lone swimmer named Joe Gary. The super-rich, retired Italian-American has mob connections and a dirty political past. Has he been snatched by accident or murdered? Red Riviera, Commissioner Daria Vinci's first investigation, is a wild ride from the tangled trails of the Cinque Terre to glamorous Portofino to roistering Genoa. It's a Riviera made red by riotous bougainvillea and spilled blood. Half-American, Daria Vinci is an outsider, the unlikely rising star of Genoa's secretive Special Operations Directorate DIGOS. In Red Riviera, she must face down a Fascist police chief, the CIA's local mastermind, a former World War Two Spitfire fighter pilot, and a plucky hundred-year-old marquise whose memory is as long as it is vengeful, in order to solve her case.
Praise For Red Riviera: A Daria Vinci Investigation (Daria Vinci Investigations)…
"A delightful romp that sparkles like sunshine on the Mediterranean." —Ellen Crosby, author of The Angels' Share

 

"Gripping, with a plot as intricate as a Da Vinci maze, Red Riviera is wonderfully atmospheric, showcasing author David Downie's intimate knowledge of things Italian—the landscapes, cityscapes and social mores, all drawn with the lightest of touches. I particularly loved Commissioner Daria Vinci's escape disguised as a corpse, and the dark humor throughout this masterful crime novel. Bravo, bravissimo!" —Anton Gill, author of The Sacred Scroll and City of Gold

 

"Marvelous! Red Riviera is so well plotted, so sensitive to present and past Italian history, so deep in characterization, that I want to see more of Daria Vinci. What a cast. A grand, unputdownable read until the lights go out." —Ronald C. Rosbottom, author of When Paris Went Dark: The City of Light Under German Occupation

 

"David Downie's Red Riviera is one of the most high-spirited, well-informed, and exuberantly written thrillers I've read in a long time –– plus it's funny as all get out. The beautiful, sharp-witted Commissioner Daria Vinci deals not only with a tough criminal case but an exacting mother from hell. Amid the high jinks, Downie, takes the reader on an informative and unforgettable whirlwind tour of Genoa, its monuments and history, its politics and manners and mores. A gem." —Harriet Welty Rochefort, author of French Toast and Final Transgression

 

"Red Riviera had me in its clutches from the start—and refused to let go. A shocking premise, a stunning locale, and a complex web of history, politics and crime that somehow made perfect sense in the end. The pacing is flawless, the engaging characters leave you curious for more. Another, please!" —Matthew Félix, award-winning author of A Voice Beyond Reason and Porcelain Travels

"If you're a fan of Italy, mysteries, or well-drawn characters, don't miss David Downie's new novel Red Riviera. It sits on my virtual bookshelf right next to Commissario Brunetti (Donna Leon) and Inspector Gamache (Louise Penny), paragons of the genre." —John Pearce, author of the Eddie Grant series including Treasure of Saint-Lazare and Last Stop: Paris
Alan Squire Publishing, 9781942892267, 300pp.
Publication Date: June 25, 2021
About the Author
David Downie is the award-winning author of three previous crime-mystery novels and over a dozen acclaimed nonfiction books translated into a variety of foreign languages, including French, Italian, Chinese, and Korean. His articles and essays have appeared in anthologies, magazines, and newspapers worldwide. Downie was born in San Francisco and graduated from UC Berkeley and Brown University. He is married to photographer Alison Harris. Since 1986 he has divided his time between Italy, France, and California. www.davidddownie.com
or
Not Currently Available for Direct Purchase