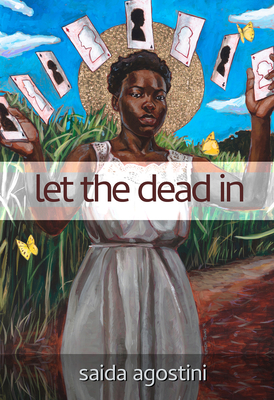 let the dead in
Paperback

* Individual store prices may vary.
Description
Saida Agostini's first full-length poetry collection, let the dead, is an exploration of the mythologies that seek to subjugate Black bodies, and the counter-stories that reject such subjugation. Audacious, sensual, and grieving, this work explores how Black women harness the fantastic to craft their own road to freedom. A journey across Guyana, London, and the United States, it is a meditation on black womanhood, queerness, the legacy of colonization, and pleasure. These poems craft a creation story fat with love, queerness, mermaids, and blackness.
Praise For let the dead in…
"'where does the story start' Saida Agostini asks in her stunning debut collection, let the dead in. It starts with a poet in full command of a language so lyrically luscious, each poem feels like a full meal. It starts with a poet courageous enough to plumb emotional depths and limn their fruit. It starts with queer love stories, myths, family histories, and poems that swing from Guyana to Baltimore. 'I prepared a daily feast of hallelujah to lay at your feet,' Agostini writes, and each poem is a hallelujah, a salve, a prayer, and a benediction finely wrought from a ferocious poet who is just beginning to bless us. —Teri Ellen Cross Davis, author of a more perfect Union and Haint

"'When I say/I love my family/what I mean/is I worship/the battle,' Saida Agostini writes early in let the dead in. What is the battle if not a familiar story of a covetous gaze, the violence following, inevitable; or a wife who 'spins time into fields of obeisance;' or love: 'a wound that you pack and pack'? Two fat black women making love or an ex-lover's name hidden under a black rectangle, its redaction a dark wall-cum-passageway, from which might emerge 'a revolt of black girls.' Let them come, because they ask questions nobody else would dare imagine. Their questions matter, a matter of survival. Because black women poets have always known, the battle is art. —Lyrae Van Clief-Stefanon, author of Open Interval and Black Swan

 

"These courageous poems of blooming and brutality, of unrelenting voice and witness, take us deep into the ruthless body, into spirit-killing. These brave poems write the murder of black women, hatred of queer and trans bodies as not just common, but endemic—yet Agostini brings survival into light, brings strong black women alive and beautiful and wildly sexual: we are nothing if not houses to each other that can hold/all sorts of brutal tender memory, make rooms of flesh/and light." —Jan Beatty, author of The Body Wars
Alan Squire Publishing, 9781942892281, 68pp.
Publication Date: March 26, 2022
About the Author
Saida Agostini is a queer Afro-Guyanese poet whose work explores the ways that Black folks harness mythology to enter the fantastic. Saida's poetry can be found in Barrelhouse Magazine, the Black Ladies Brunch Collective anthology, Not Without Our Laughter, and other publications. let the dead in was a finalist for the Center of African American Poetry & Poetics' 2020 Book Prize and the New Issues Poetry Prize. Her other publications include STUNT, a poetry chapbook reimagining the history of Nellie Jackson, a Black woman entrepreneur who operated a brothel for sixty years in Natchez, Mississippi. She is a Cave Canem Graduate Fellow.