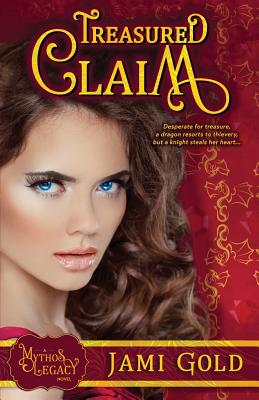 Treasured Claim
A Mythos Legacy Novel
Paperback

* Individual store prices may vary.
Description
"Not at all what I was expecting, it was better " -- Lovers of Paranormal Reviewer

Desperate for treasure, a dragon resorts to thievery, but a knight steals her heart...

A shapeshifting dragon on the verge of starvation...

For Elaina Drake, sparkling jewels aren't a frivolous matter. Without more treasure for her hoard, she'll starve. On the run from her murderous father, she's desperate enough to steal--er, acquire.

A modern-day knight seeking redemption...

Disgusted by his father's immorality, Alexander Wyatt, Chicago's biggest corporate titan, is determined to be a man of honor. Yet the theft of a necklace, stolen by an exotic beauty at his latest fundraiser, threatens to destroy all his charitable work.

A predator made prey...

Passion ignites between thief and philanthropist, sparking a game of temptation where jewelry is the prize. But when Elaina's exposure jeopardizes Alex's life, she must choose: run again to evade her father--or risk both their lives for love.

*****

*** Three-Time DOUBLE Finalist ***
(Paranormal Romance category and Best First Book category)
*** 2016 PRISM Awards with Fantasy, Futuristic & Paranormal RWA ***
*** 2015 National Reader's Choice Awards with Oklahoma RWA ***
*** 2016 Booksellers' Best Awards with Greater Detroit RWA ***

Note to Readers: This contemporary-fantasy romance contains fight-for-their-lives action, a jewel-thief heroine (with some language), and sexy times with a not-a-jerk-but-definitely-edgy billionaire. Content warnings can be found at jamigold.com/guidance.

You may like this story if you like: treasure-obsessed dragons, guys whose armor is nowhere close to shining, pacifist heroines, reformed playboys, sexy bribery games, "one last big heist," pirates and tropical islands, international settings, caves full of treasure, and wealthy guys who aren't afraid to let a woman gain the upper hand

For an introduction to the Mythos Legacy world, check out the short story Unintended Guardian (smarturl.it/UGKin)
Blue Phoenix Press, 9781942928027, 320pp.
Publication Date: May 16, 2015