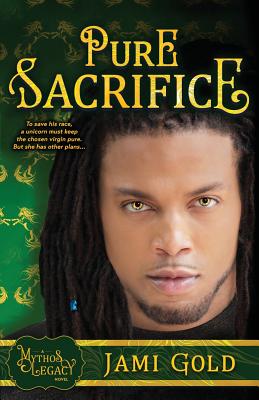 Pure Sacrifice
A Mythos Legacy Novel
Paperback

* Individual store prices may vary.
Description
"This book was a wonderful original -- NetGalley Reviewer

To save his race, he must keep the chosen virgin pure. But she has other plans...

A shapeshifting unicorn desperate to save his race...

The last guardian of his kind, Markos Ambrostead must keep the chosen Virgin hidden and untainted. But when an attacker breaches his protective magic, he's forced to reveal himself to defend her life.

A tenacious woman who refuses to be ignored...

Celia Hawkins wishes the world would get a clue and stop treating her like she's invisible. Only one man notices her, or is that her imagination? After narrowly escaping an attempted rape, she demands answers from her mysterious rescuer--starting with why he's been following her.

Rules were made to be broken...

Markos can't risk being tempted by the Virgin, yet emboldened by his attention, Celia's determined to become his friend. Maybe more. Maybe much more. Now he must hold onto his crumbling willpower to maintain her purity--or his tribe will become extinct.

*****

Note to Readers: This contemporary-fantasy romance contains fight-for-their-lives action, a not-nearly-as-weak-as-she-seems heroine, and sexy times with a virgin hero who struggles to keep up with her. Content warnings can be found at jamigold.com/guidance.

You may like this story if you like: bad-ass unicorns, virgin heroes, assertive heroines who confront stalkers and seduce the hero, matchmaking dogs, unconventional-but-not-BDSM sexy times, international settings, and wealthy guys who aren't afraid to admit when a woman has them outmatched

For an introduction to the Mythos Legacy world, check out the free short story Unintended Guardian (smarturl.it/UGKin)
Blue Phoenix Press, 9781942928041, 322pp.
Publication Date: August 6, 2015