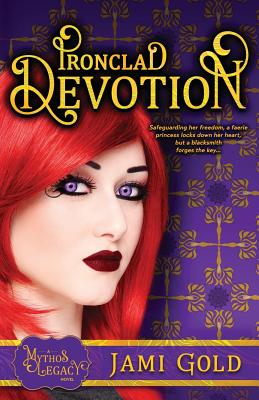 Ironclad Devotion
A Mythos Legacy Novel
Paperback

* Individual store prices may vary.
Description
*** Winner of the 2015 NATIONAL READERS' CHOICE AWARD for Paranormal Romance ***

Safeguarding her freedom, a faerie princess locks down her heart, but a blacksmith forges the key...

A faerie princess evading her fate...

Earth is no place for a faerie, but Kira can't go home without dooming her people. Desperate to avoid the pull of her homeland, she fosters an abandoned girl, the child's joy a source of much-needed energy.

A blacksmith with something to prove...

When Zachary Chase discovers he has a daughter, he's determined to be part of his child's life and not repeat his mother's neglect. But to open the little girl's heart, he must earn her foster mother's trust.

One night is never enough...

Despite their rivalry, Kira and Zac's desires tempt them into one no-consequences night. Yet the more passion flares between them, the more Kira risks destroying the life she's carved out on Earth--and endangering those she cares about in both worlds.

*****

Note to Readers: This contemporary-fantasy romance contains fight-for-their-lives action, a tough motorcycle-riding heroine (with some language), and sexy times with a gentle half-Navajo cowboy who might be edgy enough to tame her. Somewhat... (Content warnings can be found at jamigold.com/guidance.)

You may like this story if you like: faeries, cowboys/blacksmiths/horses, good guy motorcycle clubs, Southwest settings, Native American characters, foster parenting, enemies to lovers, secret baby backstories, and guys who aren't afraid of a rough-around-the-edges woman

For an introduction to the Mythos Legacy world, check out the short story Unintended Guardian (smarturl.it/UGKin)
Blue Phoenix Press, 9781942928065, 330pp.
Publication Date: October 22, 2015