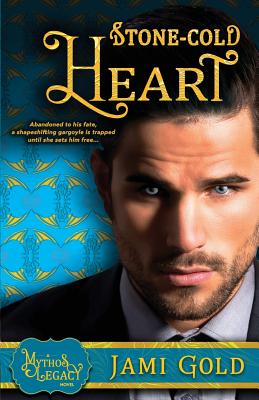 Stone-Cold Heart
A Mythos Legacy Novel
Paperback

* Individual store prices may vary.
Description
"So many paranormals have the same old story, but this was so unique " -- Amazon Reviewer

Abandoned to his fate, a shapeshifting gargoyle is trapped until she sets him free...

A gargoyle betrayed by his soldiers...

After centuries of stone-cold death, Garrett discovers his legion has deserted him. Without their help, he'll succumb to eternal sleep once more unless he can trick the woman who woke him into trusting him with her soul.

A combat veteran scarred inside and out...

Her last night in Afghanistan, Raquel Guerrero's team fell victim to a suicide bomber, killing everyone but her. Now, despite her determination to never again let anyone close, her sense of duty compels her to help an endangered warrior survive.

Trust isn't in their vocabularies...

A tentative truce frees them to investigate his regiment's abandonment--and unleashes passionate temptations. But when the truth is uncovered, Garrett and Raquel's fragile bond--and the healing power of love--might be the only thing that keeps them alive.

*****

*** Four-Time Finalist ***
*** 2018 PRISM Awards with Fantasy, Futuristic & Paranormal RWA ***
*** 2017 National Reader's Choice Awards with Oklahoma RWA ***
*** 2018 Booksellers' Best Awards with Greater Detroit RWA ***
*** 2018 Carolyn Reader's Choice Awards with North Texas RWA ***

Note to Readers: This contemporary-fantasy romance contains fight-for-their-lives action, a fierce-but-damaged Puerto Rican heroine (with some language--she is a combat vet after all), and unique sexy times with an arrogant gargoyle who might be the only one who truly understands her. Content warnings can be found at jamigold.com/guidance.

You may like this story if you like: gargoyles, kick-ass female soldiers, sensitive stories about PTSD, New York City, enemies to lovers, fairy tale elements, mysteries of stone circles, Puerto Rican backstories, and guys who don't assume they know the answer

For an introduction to the Mythos Legacy world, check out the short story Unintended Guardian (smarturl.it/UGKin)
Blue Phoenix Press, 9781942928089, 320pp.
Publication Date: May 16, 2017