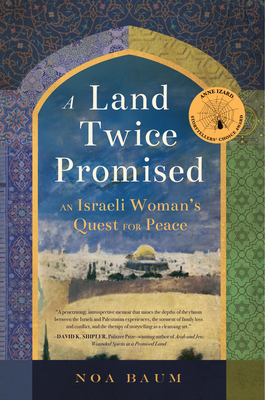 A Land Twice Promised
An Israeli Woman's Quest for Peace
Paperback

* Individual store prices may vary.
Description
Israeli storyteller Noa Baum grew up in Jerusalem in the shadow of the ancestral traumas of the holocaust and ongoing wars. Stories of the past and fear of annihilation in the wars of the '60s, '70s, and '80s shaped her perceptions and identity. In America, she met a Palestinian woman who had grown up under Israeli Occupation, and as they shared memories of war years in Jerusalem, an unlikely friendship blossomed.
A Land Twice Promised delves into the heart of one of the world's most enduring and complex conflicts. Baum's deeply personal memoir recounts her journey from girlhood in post­-Holocaust Israel to her adult encounter with "the other." With honesty, compassion, and humor, she captures the drama of a nation at war and her discovery of humanity in the enemy.  
Winner of the 2017 Anne Izard Storytellers' Choice Award, among others, this compelling memoir demonstrates the transformative power of art and challenges each reader to take the first step toward peace.
Praise For A Land Twice Promised: An Israeli Woman's Quest for Peace…
"In this touching and honest memoir, Baum shares the story of how her search for peace informed her life. Born in Israel in the shadow of the Holocaust, Baum grew up with the fear of another Jewish destruction looming large. The fear was enhanced by stories retold by her dramatic mother and by childhood experiences that included wars and the constant threat of attack and destruction. When she was a college student, the increasing death toll and the virulence of extremists instilled in her a strong desire for peace. After she moved to California, she joined a network of storytellers and realized the power of a well-told story. As she crafted a one-woman play about her friendship with a Palestinian woman and subsequently performed the show for many diverse audiences around the globe, Baum saw firsthand the long-reaching effect of her judgment-free and dual-perspective routine, as people who had never listened to the 'other's' viewpoint opened their hearts to hers. Although not everyone will agree with her leftist political perspective on the Israeli-Palestinian conflict, Baum's genuine desire to make a difference may well inspire others to do the same."
—Publishers Weekly
"Impressively well written, organized and presented, A Land Twice Promised: An Israeli Woman's Quest for Peace is a compelling, thoughtful and thought-provoking read."
—Midwest Book Review
"A Land Twice Promised is a moving, lucid memoir that powerfully evokes the Israeli experience in the last decades, and Baum's personal and familial struggles to come to terms with it. The book provokes empathy and insight, and will lead most readers to embrace a view of Israel and the Palestinian conflict that is both complex and compassionate."
—Jewish Independent, Canada
"Noa Baum has written a penetrating, introspective memoir that mines the depths of the chasm between the Israeli and Palestinian experiences, the torment of family loss and conflict, and the therapy of storytelling as a cleansing art. You will not think in the same way at the end of this captivating book as you did at the beginning."
—David K. Shipler, Pulitzer Prize-winning author of Arab and Jew: Wounded Spirits in a Promised Land
"A Land Twice Promised is more than a coming of age story; it is a coming to consciousness story by an Israeli woman who clearly loves her country. But because Noa Baum is a storyteller through and through, her love of country comes to be far more nuanced as she uncovers and starts to re-tell the story of her Palestinian friend. This beautifully written book helps us understand that truth is never black and white. Baum guides us though the shades of grey with love and wisdom."
—Rabbi Sid Schwarz, Senior Fellow, Clal: The National Jewish Center for Learning and Leadership and author of Judaism and Justice: The Jewish Passion to Repair the World
"I couldn't put it down! This engaging book offers readers a riveting look into the back story, pivotal experiences, and creative process of a storytelling artist whose work sparks important political questions and encourages listeners' empathy for multiple points of view."
—Heather Forest PhD, Author and storyteller
"A Land Twice Promised: An Israeli Woman's Quest for Peace is an extraordinary book. I hope it becomes a classic. It's beautifully written, funny, sad and mostly, it's powerful. If we could be as imaginative, compassionate and open as Noa Baum we would break down walls and find peace."
—Jay O'Callahan, Writer, Storyteller, NEA Recipient, commissioned by NASA

"A Land Twice Promised is a real story of transformation. Of seeing the humanity in the other, and of realizing that we are destined to share this land otherwise we will just share more graves. For those who know little of Israel and its history, you will get a glimpse through the eyes of someone real, of just how complex life here is, of living through peace agreements which led to more bloodshed, of wars where no one won. But also of relationships that can be mended. I was left with a sense of hope."
—Robi Damelin, Spokesperson for International Relations, The Parents Circle - Families Forum

"What makes a soulfully creative and compelling storyteller? I was struck by Noa Baum's exceptionally well told journey. With her indomitable passion and spirit, she grows into womanhood in Israel, encompassing with exquisite compassion all the many forceful voices of her life."
—Hedy Schleifer, Director of Tikkun Learning Center

"A memoir about coming of age emotionally and politically told as only a master storyteller could. Absolutely riveting!"
—Ira P. Weiss, Ph.D., Jewish Islamic Dialogue Society

"Noa is a storyteller, and her stories are not fictional fables but true living personal tales of a land twice promised. I was deeply moved to understand the tragic memories of the Jewish people and their longings for a safe homeland. But I also understand by personal experience the deep unjust sufferings of the Palestinian people and their humiliations, frustrations and hopelessness to the present day. Perhaps through such conversations and storytelling, there can be hope and peace. Highly recommended."
—Patricia Rantisi, Author of Miriam's Legacy and My Name Is Musa

"Noa Baum is a masterful story-teller; and she has an important story to tell.  Her message is an inspiration and a pathway to all who yearn for peace."
—Gerda Weissmann Klein, Holocaust Survivor and Author of All but My Life

"'I choose to step away from the hardened heart, the shelter of uplifting brass and drums of nationality. I choose to redefine my tribal affiliations, to let my heart break open to listen deeply, to stay friends, to stay open to the individual humanity of 'the other,' and to tell the stories.'  These profound, hard-won resolutions ring out from the final chapter of Noa Baum's new, wonderful memoir—a memoir not only of her own life, her youth in Israel, her move to the United States, and her evolving relationship to Israeli history and politics, but also a memoir of the development of an artist and her discovery of the power of her storytelling art.
"As we meet her family, we see intimately the legacy of European Jewish history layered onto the emergence of the state of Israel.  With tremendous empathy Baum shows us her evolving understanding of the need for peace, culminating in her friendship with a Palestinian woman who helps her truly to listen to the stories of 'the other.'  For storytellers, Baum's final chapters provide superb extra value, as she explains the artistic choices she made as she shaped those conversations with her Palestinian friend into her brilliant one-woman performance, A Land Twice Promised.
"If you've wondered what the Israeli-Palestine conflict looks like on the ground, this account of growing up within it and arriving at peacemaking, will take you into the heart of understanding."
—Loren Niemi, Storyteller/Poet
 
Familius, 9781942934493, 340pp.
Publication Date: June 7, 2016
About the Author
Noa Baum is an internationally acclaimed and award-winning storyteller and author. Born and raised in Jerusalem, she presents internationally to diverse audiences, from the World Bank and universities to schools, festivals, and congregations.
 
or
Not Currently Available for Direct Purchase