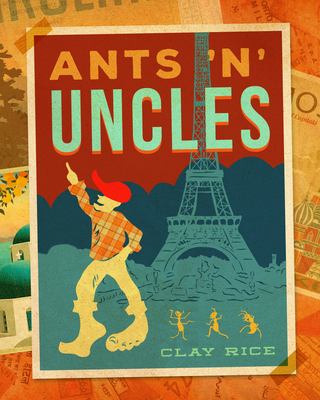 Ants 'N' Uncles (Hardcover)
Familius, 9781942934684, 32pp.
Publication Date: September 6, 2016
* Individual store prices may vary.
Description
Ants 'n' uncles, uncles 'n' ants, dancin' 'cross the world with ants in his pants.
Goin' everywhere he's never been before, on his ant-imated world tour.
What happens when Uncle steps on an ant hill? The ants in his pants make him dance, of course, and his dancing skills become famous around the world. From award-winning author and silhouette artist Clay Rice comes the rhyming tale of an accidental hero. Filled with scenes from countries and cultures around the globe, this lively, silly story is sure to delight children and parents.
About the Author
Clay Rice is described by author Pat Conroy as a "great talent who combines soul and passion". Silhouette artistry and storytelling have been in his family for more than 80 years. His grandfather, Carew Rice, was described by Poet Carl Sandburg as "America's Greatest Silhouettist" and traveled worldwide, sharing his mesmerizing cutouts with delighted customers. Each profile silhouette takes Clay about 1 minute and he estimates that in his 32 year career, he has cut over 900,000 silhouettes. Clay's nationwide following has families flocking to have this talented artist create keepsake silhouettes and to have him sign copies of his award-winning children's book, The Lonely Shadow. His work has been featured in Country Living, the Washington Times, The Atlanta Constitution, Cookie Magazine, and has appeared in the CBS series Army Wives. Clay is the recipient of the Moonbeam Children's Book Award and the IPPY Award for Children's Book of the Year. Clay's landscape scenes and children's illustrations are sought after by collectors worldwide and his work is on permanent display at the South Carolina State Museum.
Praise For Ants 'N' Uncles…
Silhouette artist Rice offers another imaginative tale using his intricate cut-paper designs.The creator of Mama, Let's Make a Moon (2013) invites children to "dance like there are ants in your pants" in a rollicking tall tale. The narrator, a barefoot child with braided pigtails that sometimes stand on end in surprise, uses rhythm and rhyme to tell the story of an uncle who discovers a talent for dancing after stepping in a bed of ants. Playful language sets the scene: "Ants 'n' uncles, uncles 'n' ants / dancin' the world with ants in his pants. / Goin' where he's / never been before on / his un-ant-ticipated / world tour." The lively, poster-style illustrations accompany the uncle as he limbos, pirouettes, moonwalks, and tangos to fame through the world's big cities, sending home postcards as he goes. Vivid colors pop off the pages as Uncle Bob goes from dancing in a spotlight to balancing atop the Eiffel Tower, with dancing ants alongside him. (Picture book. 4-7)
—Kirkus Reviews
Rice takes a more playful tack than he did in 2014's The Stick in this story about an uncle with literal ants in his pants, which send him on an around-the-world dance-a-thon. The man's niece, a girl with twin braids and a plaid dress, narrates his journey, which Rice captures in swoopy, cut-paper silhouettes that caricature the man's features, especially his oversize, ever-moving feet. As the girl's uncle travels, "He two-stepped through Texas/ Merengued through Mexico/ As he cancanned through Costa Rica/ He really put on a show." Postcards and scenes framed to look like vintage travel posters bring a cosmopolitan air to the pages as Rice highlights the Eiffel Tower, Egyptian pyramids, and other landmarks. A repeated refrain ("Ants 'n' uncles, uncles 'n' ants,/ dancin' the world with ants in his pants./ Goin' where he's never been before/ on his un-ant-ticipated world tour") gives the rhymes a musicality that reflects the author's songwriting background. Though the closing joke fizzles ("If you see my uncle, tell him... he's three months late for summer"), there's enough silliness throughout to keep readers entertained. Ages 3–6.
—Publishers Weekly
This book tells a story much bigger than that of some ants and a dancing uncle. It is a story about the unexpected opportunities in life, the power of family, and the importance of remembering where you come from.
—Moutrie News
Endorsements