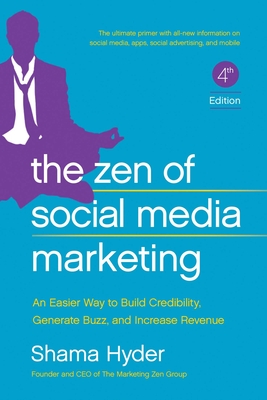 The Zen of Social Media Marketing
An Easier Way to Build Credibility, Generate Buzz, and Increase Revenue
Paperback

* Individual store prices may vary.
Description
The Essential How-To Guide for Social Media Marketing by Leading Expert Shama Hyder, Named "Social media's zen master of marketing" by Entrepreneur magazine and One of LinkedIn's "Top Voices" in Marketing & Social in 2015

In 2001, at the dawn of the millennium—and the digital marketing age—the first edition of The Zen of Social Media Marketing became a global hit. In the ensuing years, updated editions helped even more marketers, entrepreneurs, students, and professionals of all types navigate the sometimes-stressful world of social media. Now, this new, fully updated edition offers timely insight to the ways social media marketing has changed and specific steps to show you exactly how to thrive and profit with ease and efficiency.

Whether you're a novice, struggler, or mastery-seeker, you already know that engaging in social media is no longer optional. People are talking about your company online and you need to be part of those conversations. However, social media marketing isn't like traditional marketing—and treating it that way only leads to frustration and failure. In The Zen of Social Media Marketing, Shama Hyder, social media expert and president of The Marketing Zen Group, teaches you the "Zen" of using social media tools to find your own marketing nirvana.

The newest edition of The Zen of Social Media Marketing gives you:
- A comprehensive overview of why social media works and how to use it to drive traffic to your website and fan page
- A proven process to attract followers and fans and convert them into customers and clients
- The latest social media trends and step-by-step guidelines for sites and apps such as Instagram, Pinterest, Snapchat, and more
- Innovative tips for mobile design
- Essential advice on content marketing, email marketing, video, and targeted tactics to enhance your SEO
- All-new information on why, when, and how to use online advertising
- Why self-expression is the true driver of social media use and how to leverage it for your business
- Insights from dozens of leading online marketers and entrepreneurs, with strategies for success
Praise For The Zen of Social Media Marketing: An Easier Way to Build Credibility, Generate Buzz, and Increase Revenue…
"She provides detailed instructions for launching social media campaigns and sound guidance for fully leveraging and optimizing search engines, web sites, and blogs. VERDICT: Kabani's assertion that this is 'the last social media guide you'll ever need' has merit, as anyone purchasing this also has access to a continually updated online version. Highly recommended for anybody with anything to market online—including him- or herself."
—from Library Journal
BenBella Books, 9781942952060, 280pp.
Publication Date: August 16, 2016
About the Author
Web and TV personality. Bestselling author. International Speaker. Award winning CEO of The Marketing Zen Group—a global online marketing and digital PR company. Shama Hyder is the face of today's digital world, and represents the best her generation has to offer. She has aptly been dubbed the "master millennial of the universe" and "an online marketing shaman" by FastCompany.com, and is an oft-quoted social media expert. Hyder has been featured by Bloomberg Businessweek, Entrepreneur, Fast Company, Inc. Magazine, The Wall Street Journal, The New York Times, Dallas Morning News, The Huffington Post, and hundreds of blogs and social media outlets. She's also an accomplished international speaker and hosts her own Web TV show, Shama.TV. The show addresses new media marketing topics, trends, people, and relevant perspectives. She also serves as a technology and new media correspondent for the media.

Hyder formed The Marketing Zen Group in 2009. Since then, the company has grown to include a team of 30 and clients that range from publicly held, Fortune 500 companies to privately held small businesses and non-profit organizations. The company serves clients worldwide, including companies in Europe, Asia, and Central and South Americas. Since its start in 2009, average company growth is 400 percent. She holds a master's degree in organizational communication from the University of Texas at Austin and prides herself in being a constant learner. In 2009, Bloomberg Businessweek honored Hyder as one of the Top 25 Under 25 entrepreneurs in North America. In 2010, Hyder won the prestigious Technology Titan Emerging Company CEO award. In 2011, Entrepreneur magazine featured her as one of four Super Sonic Youth, dubbing her a "zen master of marketing."

When not working directly with her clients or shooting her shows, Hyder travels the world speaking on business, entrepreneurship, and technology. She is passionate about empowering youth and works closely with the Young Entrepreneur Council in fostering youth entrepreneurship around the world. In 2011, she was the only woman delegate invited by the U.S. State Department to mentor tech entrepreneurs in Cairo as part of President Obama's initiative in the region.