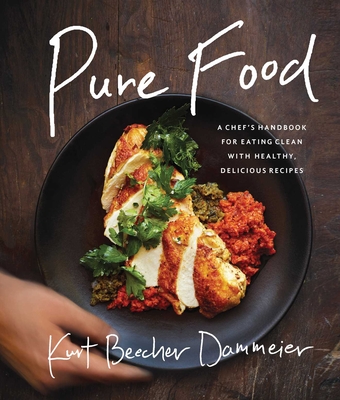 Pure Food (Hardcover)
A Chef's Handbook for Eating Clean, with Healthy, Delicious Recipes
Benbella Books, 9781942952176, 256pp.
Publication Date: July 5, 2016
* Individual store prices may vary.
Description
2017 Gourmand Award Winner of "US National Cookbook of the Year" You are what you eat. And what you're eating isn't good. With the proliferation of artificial additives, hormones, antibiotics, and the thousand other man-made substances and chemical cocktails lurking in our grocery bags, eating healthy, natural foods is trickier than ever. It's no coincidence that America's health is flagging, with obesity and type 2 diabetes now at epidemic levels. Taking control of your diet doesn't have to be a challenge. Pure Food will show you how easy--and how much healthier--it is to cook clean, delicious foods. Kurt Beecher Dammeier, chef, restaurateur, food entrepreneur, retailer, and educator has spent the past 30 years of his life working to rid his own diet of food additives, and nearly 20 creating and selling pure, unadulterated foods through his Seattle-based family of food businesses (including Beecher's Handmade Cheese, Pasta & Co, and Bennett's Restaurant). In Pure Food, Kurt shares his own story, as well as providing a roadmap for readers to forge a diet based on pure, additive-free foods. Part handbook and part cookbook, Pure Food contains more than 70 delicious and natural recipes for pure living. Unlike most cookbooks, Pure Food's recipes are organized in threads--which start with a primary meal component like chicken, and progress through a series of dishes that use the primary ingredient in different ways--to help you get the most from your cooking. Make Braised Beef Chuck Roast for Sunday supper, followed up by Monday night Beef Chili, and Beef and Mushroom Lasagna to use up the leftover roast on Tuesday. It also contains an assortment of sauces and sides, from Red Fresno Sriracha and 4 Year Flagship Aioli to Red Cabbage Peperonata and Wilted Collard Greens. And leave room for dessert, like Apple Pear Crisp and Beecher's No-Bake Super-Light Cheese Cake. Whether you're a serial dieter or trying for the first time to improve the way you eat, Pure Food will revolutionize how you approach food and lead you down the path to a healthier life.
About the Author
A fourth-generation Puget Sound native, Kurt Beecher Dammeier entered the Seattle food scene with the purchase of Pasta & Co, an iconic Seattle gourmet shop for over thirty years. Since that time, he's opened a number of Seattle food concepts under the Sugar Mountain umbrella, including Beecher's Handmade Cheese, Bennett's, Liam's, and Maximus / Minimus, where he serves as CEO and head chef of these businesses. His most recent addition to the Sugar Mountain family is two lines of premium meats: Mishima Reserve, a luxury Wagyu beef brand, and Beecher's Whey Fed Pork. With each endeavor, Kurt's goal is to demonstrate how quality ingredients make for delicious meals without the use of industrial additives like food colorings, flavor enhancers, or preservatives. Beyond his retail endeavors, Kurt effects change in people's eating habits through his 2007 cookbook, Pure Flavor, and the Beecher's Pure Food Kids Foundation (501c3), founded in 2004. Each year, the Foundation's Pure Food Kids Workshop empowers more than 11,000 fourth and fifth grade students in the Seattle Metro area and in New York City to make healthy food choices for life. The program's mission is to spark curiosity in kids about what they eat, empower them to make healthier choices through label reading, and inspire them with the opportunity to cook and eat a wholesome, delicious meal right in the classroom.