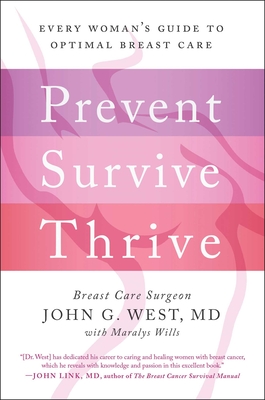 Prevent, Survive, Thrive
Every Woman's Guide to Optimal Breast Care
Hardcover

* Individual store prices may vary.
Description
Are you doing everything you can to make sure your breasts are healthy?

If this question gives you pause, you're not alone. Confusing media and conflicting advice surrounding breast health can make it challenging to know what's best.

In the United States this year, more than 40,000 women will die from breast cancer. Dr. John G. West wants to help you avoid becoming part of that statistic through preventative methods and screenings. And for women who are diagnosed, Dr. West provides guidance and wisdom to make the best possible treatment decisions.

For nearly 20 years, Dr. West has focused on giving his patients the best care possible when they show up for diagnosis or treatment. The question he gets most often from his patients is: "What would you tell me if I were your wife or daughter?" Prevent, Survive, Thrive: Every Woman's Guide to Optimal Breast Care is the answer.

Drawing from the latest scientific findings in the field of breast care, Dr. West outlines the things most women don't know about screening, like when you should insist on an ultrasound instead of only relying on mammogram results or how to determine if you should get genetic testing—and what it can and cannot tell you about your cancer risk. He lets you know exactly what kind of pain is normal and what should be investigated further.

Dr. West even offers lifestyle advice to help lower your risk factors; things as small as how often you exercise or where you carry your cell phone can have an impact on your future health.

Prevent, Survive, Thrive provides clear, accurate guidelines for prevention and early detection—letting you take control of your health.
Praise For Prevent, Survive, Thrive: Every Woman's Guide to Optimal Breast Care…
"Dr. West's book is a valuable addition to the current literature for those touched by breast cancer. He has dedicated his career to caring and healing women with breast cancer, which he reveals with knowledge and passion in this excellent book."
—John S. Link, MD, author of The Breast Cancer Survival Manual: A Step-By-Step Guide for the Woman With Newly Diagnosed Breast Cancer

"Prevent, Survive, Thrive continues Dr. John West's longstanding message of empowerment to those facing or in fear of breast cancer. This literary gift moves from prevention to survivorship to activism in sharing pearls of wisdom that transform us from victims to victors! This book is a wellspring of knowledge from a breast health leader who is a living legend in the fight against breast cancer."
—Marie M. La Fargue, MPH, four-time cancer survivor

"If you never want to hear the words, 'You have breast cancer,' this book is for you. . . . There are plenty of books on facing the diagnosis of breast cancer, but this book, with its accurate straight-talk information, practical tips, and survivor stories filled with hope, helps you to prevent breast cancer. Every woman with breasts needs to read this book, and don't say this because it's funny. I say this because it's true.
—Pam Tallman, columnist and contributor to Orange Coast Magazine

"I wish I'd had this book at my fingertips years ago, but I am truly grateful for its publication at this time for the sake of my friends and family as well as all women, both younger and older."
—Allene Symons, author of Aldous Huxley's Hands

"Dr. West has shared his extensive experience in this uniquely comprehensive and easy-to-read treatise on all aspects of breast care for women of all ages (teens through seniors) and their loved ones, allowing them to be diligent in making decisions and their own choices regarding the ever-evolving questions of controversy and myth about breast cancer diagnostic alternatives and treatments."
—Dr. Gary E. Liebl, L.H.D, Chairman Emeritus, Chaminade University
BenBella Books, 9781942952237, 320pp.
Publication Date: October 4, 2016
About the Author
A general surgeon by training, Dr. John G. West became fascinated with the multidisciplinary team approach to breast cancer care in the mid 1980's. His previous experience as a pioneer in the development of regional trauma systems set the stage for his interest in developing a team approach to breast care. Dr. West opened Orange County's first breast care center in 1988, and over the past 20 yrs has been on the cutting edge of developing a team approach to the care of patients with breast problems. He was cofounder and chairman of the board of the Be Aware Foundation, which is a community outreach program dedicated to the early detection of breast cancer. Dr. West has been named a Best Doctor in America and has been recognized as one of the "Best Doctors in Orange County." He has been the lead author in 20 peer review articles and has written two previous books.

Maralys Wills's has published 16 books spanning several genres and publishers. Her fiction works include four romance novels published by Harlequin and Silhouette and a techno-thriller Scatterpath about airplane sabotage. Among her ten nonfictions are two books on writing: Damn the Rejections, Full Speed Ahead won its category in Best Books (Stephens Press); a treatise on addiction (Hazelden); and four memoirs (Longstreet Press, Stephens Press). Three of Wills's volumes have won national awards. For 30 years Wills has been teaching novel-writing and memoirs, and in 2000 was named Teacher of the Year. With her lawyer-husband, Rob, she raised six children, five boys and a girl.