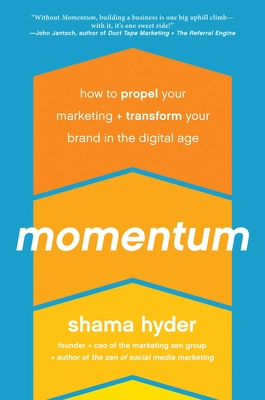 Momentum
How to Propel Your Marketing and Transform Your Brand in the Digital Age
Hardcover

* Individual store prices may vary.
Other Editions of This Title:
Digital Audiobook (5/16/2016)
Paperback (2/6/2018)
Compact Disc (5/17/2016)
Compact Disc (5/17/2016)
MP3 CD (5/2/2017)
Description
Searching for clarity amidst the chaos of digital marketing—plus better ROI?

Today's online ecosystem can be summed up in one word: overwhelming. With new social media platforms popping up all the time and new technologies disrupting even the most "reliable" marketing strategies, business and nonprofit leaders and marketers are faced with the challenge of getting ahead in an environment that makes it seem impossible to keep up.

Momentum: How to Propel Your Marketing and Transform Your Brand in the Digital Age will help you figure out what's important and what can safely be set aside. No matter your industry, if want to gain momentum for your marketing efforts—along with the just rewards—Momentum is the resource you've been waiting for. Based on her experience as CEO of The Marketing Zen Group and her work with clients ranging from small businesses to Fortune 500 companies, Shama Hyder cuts through the complexity and explains the five essential principles required to develop a successful marketing plan that will withstand the digital world's constant changes and result in real ROI:

agility through analytics
customer focus
integration
content curation
cross-pollination

Momentum will not only demystify the marketing landscape, but also show you how to spot opportunities to grow your organization and brand more easily and with more consistent results than you may have thought possible. Whether you're a young business or an established company, Momentum will teach you how to thrive.
Praise For Momentum: How to Propel Your Marketing and Transform Your Brand in the Digital Age…
"Without Momentum, building a business is one big uphill climb—with it, it's one sweet ride!"
—John Jantsch, author of Duct Tape Marketing and The Referral Engine

"Today's marketers and business leaders need to learn how to get in sync with their customers and anticipate their constantly shifting needs. That's a challenging task, but reading Momentum will speed you through the learning curve."
—Tom Davis, CMO of Forbes Media

"If you want to harness the true power of marketing in the digital age for your business, read this book."
—Dorie Clark, author of Stand Out and Reinventing You and adjunct professor at Duke University's Fuqua School of Business

"Want to build a likeable brand that attracts customers and stands out? If so, you need Momentum. Actionable and easy to digest, this book helps you unlock the code for marketing success in the Digital Age."
—Dave Kerpen, New York Times bestselling author of Likeable Social Media

"Timely and on target, Momentum shows you precisely how to use today's modern marketing to outflank your competition. Great examples throughout and highly recommended!"
—Jay Baer, president of Convince & Convert and New York Times bestselling author of Youtility

"Momentum offers a blueprint for transformation that can help any marketer flourish in the digital world. This is the best marketing book I've read in years."
—Charles Marsh, Oscar Stauffer Professor of Journalism and Mass Communications at the University of Kansas

"Businesses now compete in an era of digital Darwinism. We know how evolution works. You thrive or you don't. Shama will help you understand not only what's different, but what to do about it, and how to get better results."
—Brian Solis, Brian Solis, leading digital analyst, futurist, author of X: The Experience When Business Meets Design

"With Momentum, any business leader can learn to artfully transition a traditional marketing strategy into an agile, integrated and customer-focused operation that draws in and engages consumers."
—Gloria Larson, President at Bentley University

"In a market where disruption is the norm, even the smartest leaders are unsure how to adjust their marketing plan to meet tomorrow's demands. Momentum shows you how to create a sustainable plan that allows you to attract more customers and profits, no matter what may come your way."
—Charlene Li, author of The Engaged Leader and Open Leadership, coauthor of Groundswell, and principal analyst at Altimeter, a Prophet Company
BenBella Books, 9781942952251, 192pp.
Publication Date: May 17, 2016
About the Author
Web and TV personality. Bestselling author. International speaker. Award-winning CEO of The Marketing Zen Group—a global online marketing and digital PR company. Shama Hyder is the face of today's digital world, and represents the best her generation has to offer. She has aptly been dubbed the "master millennial of the universe" and "an online marketing shaman" by FastCompany.com, and is an oft-quoted social media expert. Hyder has been featured by Bloomberg Businessweek, Entrepreneur, Fast Company, Inc. Magazine, The Wall Street Journal, The New York Times, Dallas Morning News, The Huffington Post, and hundreds of blogs and social media outlets. She's also an accomplished international speaker and hosts her own Web TV show, Shama.TV. The show addresses new media marketing topics, trends, people, and relevant perspectives. She also serves as a technology and new media correspondent for the media.

Hyder formed The Marketing Zen Group in 2009. Since then, the company has grown to include a team of 30 and clients that range from publicly held, Fortune 500 companies to privately held small businesses and non-profit organizations. The company serves clients worldwide, including companies in Europe, Asia, and Central and South Americas. Since its start in 2009, average company growth is 400 percent. She holds a master's degree in organizational communication from the University of Texas at Austin and prides herself in being a constant learner. In 2009, Bloomberg Businessweek honored Hyder as one of the Top 25 Under 25 entrepreneurs in North America. In 2010, Hyder won the prestigious Technology Titan Emerging Company CEO award. In 2011, Entrepreneur magazine featured her as one of four Super Sonic Youth, dubbing her a "zen master of marketing."

When not working directly with her clients or shooting her shows, Hyder travels the world speaking on business, entrepreneurship, and technology. She is passionate about empowering youth and works closely with the Young Entrepreneur Council in fostering youth entrepreneurship around the world. In 2011, she was the only woman delegate invited by the U.S. State Department to mentor tech entrepreneurs in Cairo as part of President Obama's initiative in the region.