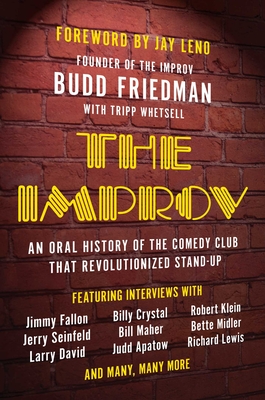 The Improv
An Oral History of the Comedy Club that Revolutionized Stand-Up
Hardcover

* Individual store prices may vary.
Other Editions of This Title:
Digital Audiobook (9/28/2017)
Paperback (9/4/2018)
Description
Featured in the New York Times 2017 "Holiday Gift Guide for Hardcover Fans"

Get an insider's oral history of the World's most iconic comedy club, featuring exclusive interviews with today's most hilarious stars recalling their time on stage (and off) at the Improv. 

In 1963, 30-year-old Budd Friedman—who had recently quit his job as a Boston advertising executive and returned to New York to become a theatrical producer—opened a coffee house for Broadway performers called the Improvisation. Later shortened to the Improv, its first seedy West 44th Street location initially attracted the likes of Judy Garland, Liza Minnelli, Albert Finney, and Jason Robards, as well as a couple of then-unknowns named Dustin Hoffman and Bette Midler. 

While it drew near-capacity crowds almost from day one, it wasn't until comedians began dropping by to try out new material that the Improv truly hit its stride. The club became the first venue to present live stand-up in a continuous format, and in the process reinvented the art form and created the template for all other comedy clubs that followed. 

From the microphone to the iconic brick wall, the Improv has been the launching pad for practically every major name in American comedy over the last five-plus decades. Now, in The Improv, Friedman, along with a Who's Who of his most famous alumni—including Jay Leno, Jerry Seinfeld, Jimmy Fallon, Larry David, Billy Crystal, Lily Tomlin, Judd Apatow, Al Franken, Paul Reiser, Howie Mandel, Bob Saget, Drew Carey, and many more—tell it like it was in the first-ever oral history of how this game-changing comedy club came to be. 

The Improv gives readers an exclusive look at what really happened onstage and off-mic at one of America's most venerable institutions.
Praise For The Improv: An Oral History of the Comedy Club that Revolutionized Stand-Up…
 "The Improv was a cauldron of talent. Whetsell writes about it wonderfully and with respect for its importance to comedy."
—Robert Klein 

"They used to say that if you made it New York you could make it anywhere. Maybe so, but if you didn't make it at the Improv, it was time to pack your bags and move to 'anywhere.'"
—Richard Lewis 

"This book is a great walk down memory lane for me. All hail the Improv and all the laugh-filled times and wonderful nights that happened in front of those brick walls."
—Bill Maher 

"The Improv played a vital part in my early stand-up days as it did in the careers of the dazzling array of stars, eccentrics, and colorful characters whose stories adorn this bright and greatly entertaining book. Get at least two copies, in case you lose one."
—Dick Cavett 

 "Here's a book I'll probably never finish, because for years to come I'll be picking it up again and again and rereading parts over and over, whenever I need perking up. It's the history of an art form, though that sounds way too stuffy, and of an institution—the great American comedy club, especially the Improvs of New York and LA."
—Tom Shales, Pulitzer Prize–winning former television critic for The Washington Post and #1 bestselling coauthor of Live from New York and These Guys Have All the Fun 

"An entertaining ride through the glory years—the people, the stories, the feuds, the laughs—of the club that started the stand-up comedy boom in America."
—Richard Zoglin, author of Hope: Entertainer of the Century and Comedy at the Edge: How Comedy in the 1970s Changed America 

"The Godfather of the comedy club is finally called to testify . . . and he sings like a canary."
—Bill Knoedelsder, author of I'm Dying Up Here: Heartbreak and High-Times in Stand-Up Comedy's Golden Era
BenBella Books, 9781942952435, 400pp.
Publication Date: September 19, 2017
About the Author
Budd Friedman, the man who could well be called the father of the modern comedy club, was born in Norwich, Connecticut, moved to New York, fought in Korea and returned to Manhattan, where he obtained a degree in Advertising and Marketing from New York University. Less than enthralled with advertising, he hit upon the idea that was to become the Improvisation. The rest, as they say, is history. Ever the entrepreneur, Budd produced a political/satirical theatrical revue in New York entitled What's a Nice Country Like You Doing in a State Like This? He became Jay Leno and Bette Midler's first manager, and in 1975 he opened a West Coast branch of the Improv on Melrose Avenue in Los Angeles.

Budd auditioned for and won the coveted role of "Budd Friedman" in Man on the Moon, the biopic about Andy Kaufman starring Jim Carrey and Danny DeVito. In 2002, he hosted and executive produced a one-hour primetime special for NBC celebrating the 40th anniversary of the Improv. He also co-created and executive produced National Lampoon's Funny Money for the Game Show Network. More recently, he reprised his role of "Budd Friedman" in Judd Aptow's Funny People. He continues to bring stand-up into the hearts and minds of everyone in the United States. As of 2015, there were 22 Improv comedy clubs in 12 states.

Tripp Whetsell is a New York-based author, entertainment journalist and critic specializing in comedy, television, film, music and pop culture history. His work has appeared both in print and online for such publications as VanityFair.com, TV Guide, The Wall Street Journal, New York Post, The New York Times, New York Magazine, New York Daily News, Closer Weekly, The Los Angeles Times and The Hollywood Reporter. This is his third book.