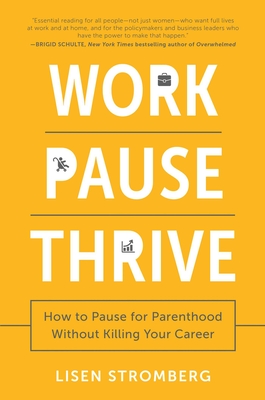 Work Pause Thrive
How to Pause for Parenthood Without Killing Your Career
Hardcover

* Individual store prices may vary.
Other Editions of This Title:
Paperback (1/29/2019)
MP3 CD (6/27/2017)
Description
We worry putting our family first means we'll be forced to abandon our careers. We're afraid if we pause our careers, we'll be forever off-track. This thinking is outdated—forget what you've heard about how pauses are career limiting, about how those who pause lack ambition, or that if you do pause you won't be able to re-enter the paid workforce. That's a flawed reality, one that doesn't reflect the truth of the careers of some of the most successful women in this country.

Author Lisen Stromberg knows this success firsthand. After the birth of her second child, she did something she never imagined she would do: she opted out to focus on her family. But her career didn't end there. Lisen paused then pivoted to become first a social entrepreneur and then an award-winning journalist writing about women, work, and life in Silicon Valley. Along the way, she learned she wasn't alone. Lisen met many highly successful women who told her they never "opted out" but who had, in fact, temporarily downshifted or paused their careers. Their hidden journeys revealed alternative nonlinear paths to the top that enabled them to achieve their personal and professional goals.

In Work PAUSE Thrive, Lisen shares their stories. Deeply rooted in social science research, cutting-edge data collected from nearly 1,500 women, and through 186 first-person interviews, this book reveals how trailblazing women have disrupted the traditional career paradigm. What worked for them can work for you.

In this book, you'll learn:
Who pauses, how they do it, and why
How pausing can enrich both your career and your life
How to innovate your own nonlinear career path
What we can—and need—to do as a society to make it possible for more people to achieve their personal and professional goals

Work PAUSE Thrive also reveals new and exciting trends in the workplace and offers targeted solutions for companies to help ensure they have cultures that will enable you to lead the life you want, a life in which you can build both a career and a family, and ultimately your own version of a life well lived.
Praise For Work Pause Thrive: How to Pause for Parenthood Without Killing Your Career…
"The most comprehensive modern survey of work-life integration, assessing how many women pause their careers to accommodate caregiving responsibilities, whether these pauses 'kill' women's careers, and the true extent of workplace 'motherhood bias.'"
—Los Angeles Review of Books

"Stuffed with realistic but inspiring stories and concrete advice, this is a healthy reminder that those who pause to place the personal before the professional are not failures." —Publishers Weekly


"Ask yourself two questions: Do you want women to make as much impact as they can on society? Do you want men to fully engage as fathers? If your answer is yes to either or both questions, then read this book. And buy a copy for your daughters and your sons."
—Guy Kawasaki, chief evangelist of Canva and former chief evangelist of Apple

"With illuminating original survey data, the compelling stories of hundreds of women, and research-backed practical advice, Work PAUSE Thrive is essential reading for all people, not just women, who want full lives at work and at home, and for the policymakers and business leaders who have the power to make that happen."
—Brigid Schulte, award-winning journalist, New York Times bestselling author of Overwhelmed: Work, Love & Play When No One Has the Time, and director of The Better Life Lab at New America

"Take heart, somewhere in these pages is a brave example that will work for YOU—as well as a call to arms to change employment policies that will strengthen the American economy by helping all kinds of American families."
— Lisa Stone, start-up advisor and cofounder of BlogHer

"For millions of women looking to pause their careers without sacrificing long-term professional success, Work PAUSE Thrive is essential. Combining a powerful personal story, new research, and a journalistic commitment to accuracy, Lisen Stromberg captures the great challenges and offers pragmatic steps forward. She also understands that today's fathers are and must be a critical part of the solution as we all work together to build work–life structures that allow a level playing field."
—Josh Levs, author of All In: How Our Work-First Culture Fails Dads, Families, and Businesses—And How We Can Fix It Together

"Filled with insights and ideas built on rock-solid data and inspiring examples from women from a wide spectrum of the working world, this is the book I'm putting on my daughter's shelf—and wish I'd had myself. Stromberg reaches out generously and thoughtfully to empower every woman torn by seemingly impossible choices, and in turn, challenges the newly enlightened reader to pay it forward. Count me in."
—Nancy Vonk, cofounder of Swim and author of Darling You Can't Do Both (And Other Noise to Ignore on Your Way Up)

"Work PAUSE Thrive represents! It details how inflexible workplace structures, public policy failures, and cultural stigmas against parents in the workplace hold women AND men back from living lives of authenticity and meaning. This is a must-read!"
—Jennifer Siebel Newsom, founder and CEO of The Representation Project

"Forget climbing some corporate ladder, you want a career with twists and turns and adventure, but how? In Work PAUSE Thrive, author Lisen Stromberg shows how trailblazing women have crafted a big life on their terms and how you can too."
—Ann Shoket, author of The Big Life and former editor-in-chief of Seventeen

"Our lives are not straight lines, so not surprisingly neither are our careers. Yet when they inevitably take an unexpected turn we worry that we have fallen off the career track. Lisen Stromberg, in Work PAUSE Thrive, is here to tell you that there is no 'track,' there is just the path you and your family create for your own fulfilling lives."
—Lisa Heffernan, New York Times bestselling author of Goldman Sachs and the Culture of Success and cofounder of the "Grown and Flown" blog

"Work PAUSE Thrive: How to Pause for Parenthood Without Killing Your Career doesn't just offer tactical solutions for integrating kids with careers, it also is a call to action so individual companies and our country as a whole will finally focus on providing meaningful solutions for all parents."
—Joan Blades, cofounder of MoveOn.org and MomsRising.Org

"Former advertising exec and veteran journalist Lisen Stromberg offers stats, anecdotes, and advice in her deep analysis on how to navigate the career journey that includes a 'pause.' Learn from her wise and thoughtful approach to managing the nontraditional career path."
—Carol Fishman Cohen, CEO of iRelaunch

"Lisen Stromberg explodes the false dichotomy faced by generations of career-minded women—either be an engaged mother or stay on track in a career. Work PAUSE Thrive delivers a fresh alternative that millennial women (and men) are craving in their quest to thrive as parents with careers; for many women, the zig-zagging career path is the perfect fit!"
—W. Brad Johnson, PhD and David Smith, PhD, authors of Athena Rising: How and Why Men Should Mentor Women

"A refreshing new take on the work–life conversation! Work PAUSE Thrive 'disrupts' the all-in model of career success and maps innovative paths to professional and personal fulfillment. A must-read for next generation employees and the companies that hire them!"
—Samantha Walravens, editor of TORN: True Stories of Kids, Career & the Conflict of Modern Motherhood and coauthor of Geek Girl Rising: Inside the Sisterhood Shaking Up Tech

"Lisen Stromberg isn't just an author—she's a whistleblower. The alarm she's sounding is music to my ears: that the obstacle course of working motherhood is doable. With stats and stories, Stromberg reveals an alternate path for working parents . . . all while urging society to step up to better meet the needs of American families."
—Kat Gordon, CEO and founder of The 3% Movement
BenBella Books, 9781942952732, 384pp.
Publication Date: January 31, 2017
About the Author
After a successful career in marketing and advertising, Lisen Stromberg, left the business world frustrated by the lack of support for mothers in the workplace. She pivoted to become an award-winning journalist whose work can be found in The New York Times, Fortune, Newsweek, Salon, and other high profile media outlets.

Now Lisen is back to her business roots as CEO and Founder of PrismWork, a culture innovation consultancy. She and her team partner with companies, leaders, and advocates, to innovate the workplace so the next generation isn't forced to choose between work and family.

A sought after speaker and moderator, Lisen has inspired thousands with her talks on work+life integration, corporate talent innovation, disrupting the traditional career paradigm, and empowering women in the workplace. She has been seen on stage at SXSW, TEDx, The 3% Conference, and more.

Lisen and her family live in San Francisco.
or
Not Currently Available for Direct Purchase