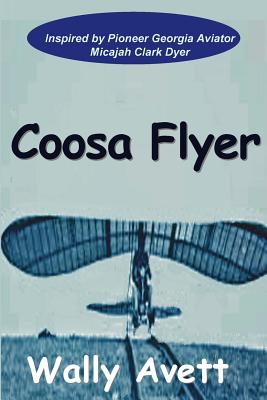 Coosa Flyer (Paperback)
W & B Publishers Inc., 9781942981053, 284pp.
Publication Date: March 26, 2015
Other Editions of This Title:
Paperback (3/15/2015)
* Individual store prices may vary.
Description
Man CAN fly Man can FLY MAN CAN FLY
To soar like a bird was unthinkable in the late 19th century.
The Wright brothers were only 7 and 3 years old, when a relatively uneducated backwoodsman from the hills of Georgia decided that man should be able to fly and he was determined to find the secret Of course, his neighbors and on-lookers knew that he was absolutely crazy - but that only fed fuel to the fire. This is his story. The story of a man driven by an idea; a man with a mission; a man with a vision. After all, he reasoned that if a man could float on water, he could also float on air.
Despite the ridicule and mocking, Micajah Clark Dyer was a man determined. Determined to prove the naysayers wrong. A man, relatively unknown and unrecognized by the public even today, but a man who pursued his dreams. A man who achieved the impossible. A man who flew
Inspired by a True Story
The life story of Micajah Clark Dyer is filled with innovative inventions unimagined in the 1800s. Among his works was a primitive aircraft that pre-dated all known efforts to create a flying machine. His successes, and his failures, as well as his compassion for others identify Dyer as a most unique individual of the era.
Scroll up and grab a copy today.
About the Author
Wally Avett is retired from a sales career --- newspaper and billboard advertising, mobile homes, real estate---in the Great Smoky Mountains of North Carolina. He lives in the same little town, sometimes compared to Mayberry, where he was editor of the weekly newspaper in the '70's and town manager in the '80's. "My father was a town-and-country Methodist preacher," he says. "So I grew up with good story-telling all around me, friends and family." He met many colorful characters in a lifetime of interviews, heard many stories and they inspire his writing today. "For me, good writing has to be based on truth. It gives the work an authentic ring and makes it believeable. So I write like a granny-woman makes a quilt, producing fiction actually imagined from bits and pieces of raw truth." He is an avid reader and a gardener, a Sunday School teacher and gospel singer, hunter, fisherman and reluctant handyman. He likes local history, sometimes sells cabins to Florida flatlanders and frequently tells funny stories. His first two novels were published by Belle Books in 2014, MURDER IN CANEY FORK and LAST BIGFOOT IN DIXIE.