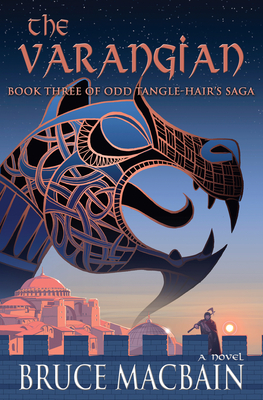 The Varangian
Book Three of Odd Tangle-Hair's Saga
Paperback

* Individual store prices may vary.
Description
The Varangian is the final entry in Bruce Macbain's Odd Tangle-Hair Saga and brings Odd's challenging adventures to a climactic and satisfying finish. On a secret diplomatic mission to the Emperor's court in Miklagard, the Viking's name for Constantinople, Odd meets the members of the fearsome Varangian Guard whose elite Viking members served as the Emperor's personal bodyguards. Harald, his former master and the man he's been sent to murder, now serves among the guards. Court intrigue and imperial dynastic disputes provide the backdrop for the conflict between Odd and Harald. Like Odin's Child and The Ice Queen before it,The Varangian is dictated by Odd to a young scribe whose own life is changed by the telling of the tale.
Praise For The Varangian: Book Three of Odd Tangle-Hair's Saga…
"Thoroughly effective at explaining the intriguing and highly complex circumstances of the time period, Macbain's (The Ice Queen, 2015, etc.) book shines in a way that only historical fiction can. Who needs King Jon Snow in Game of Thrones when one can get a glimpse of the historically real and undeniably sinister John the Guardian of Orphans? Even the most terrifying dragon pales in comparison to the sheer horror of a society so comfortable with castration. As the story ventures outside of Constantinople, the reader is treated to a plot that can only be described as epic … a highly entertaining Viking adventure." — Kirkus Reviews
"Written by a historian with deep understanding of the cultures, peoples, and languages of this world, The Varangian speaks with an authoritative and compelling voice that can equally present naval battles decided by Greek Fire and court intrigue culminating in advancement to lucrative rank or in mutilation and blinding.  This is a masterfully written and suspenseful tale that weaves fictional characters into the dramatic story of eleventh-century Byzantium and ambitious women and men, some home grown and some drawn from afar, who aimed to profit from an empire of legendary wealth and splendor." — Emily Albu, Professor of Medieval and Byzantine Studies, UC, Davis
"The Varangian is the third and final volume of Bruce Macbain's Odd Tangle-Hair's Saga, and like the first two entries, it is as compelling and wild a ride as historical fiction offers. Macbain brilliantly weaves in his vast knowledge of 11th century Viking and Byzantine life with a great storyteller's ability to drive the plot forward, a plot filled with intrigue, violence, betrayal, and lust." — Barton Kunstler, author of The Hothouse Effect
Blank Slate Press, 9781943075249, 358pp.
Publication Date: November 29, 2016
About the Author
Bruce Macbain was born in Chicago, Illinois. As a child, he squandered whole days reading science fiction and history. Greek and Roman history held a special fascination for him and this led eventually to acquiring a master's degree in Classical Studies and a doctorate in Ancient History. As an assistant professor of Classics, he taught courses in Late Antiquity and Roman religion—which is a particular interest of his—and published a few impenetrable scholarly monographs, which almost no one read. He eventually left academe and turned to teaching English as a second language, a field he was trained in while serving as a Peace Corps Volunteer in Borneo in the 60s.

Macbain has written a series of historical mysteries set in ancient Rome, (Roman Games, 2010,  and The Bull Slayer, 2013) featuring the senatorial letter-writer Pliny the Younger as his protagonist, assisted by other literary figures such as the poet Martial and the biographer Suetonius. He also does a bit of book reviewing for the Historical Novels Review and Foreword magazine. Odin's Child is the first in his Viking series, The Odd Tangle-Hair Saga.