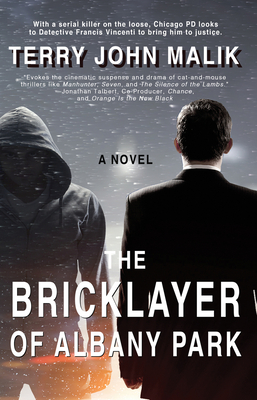 The Bricklayer of Albany Park (Paperback)
Blank Slate Press, 9781943075348, 340pp.
Publication Date: August 22, 2017
* Individual store prices may vary.
Description
IBPA-Benjamin Franklin Award, Gold Medal; MIPA-Midwest Publishers Association Award, Finalist; Great Midwest Book Festival, First Runner Up
Does it take a monster to catch a monster?
As a student, Francis Vincenti asked his mentor, former Chicago PD detective Thomas Aquinas Foster, if it took a monster to catch a monster. Foster, a man with a tortured soul and his own self-righteous brand of justice, didn't have an answer. Now a detective with a string of famous arrests under his belt,Vincenti is known as a cop with an uncanny insight into a killer's psyche. Until the Bricklayer of Albany Park. Obsessed with the brutal slayings, Vincenti studies the murderer and his victims, reconstructing the killings and burials by day and, at night, recreating the murders one by one in his nightmares. He knows the Bricklayer. But not well enough to stop him. 
About the Author
TERRY JOHN MALIK is a Chicagoan to the core. Born and raised in the city he loves, son of a Chicago fireman, he now explores the dark back streets and alleys of the city's imagination. Mr. Malik is a graduate of the University of Notre Dame where he majored in English, and an alumnus of Loyola University School of Law. Terry brings to his work a wide variety of life experiences. He taught English for several years in the Archdiocese of Chicago School System; designed computer systems for an international accounting firm; worked with distressed borrowers as a banker for the largest bank in Chicago; practiced law for twenty-eight years appearing in federal courts across the nation; became the president of a financially troubled high school; administered a foundation that provided scholarship funds for disadvantaged inner city girls; and created websites for local merchants and non-profits. Throughout his many careers, he has continued to hone his writing skills and never lost his passion for a story well told.
Prior to writing his debut novel, The Bricklayer of Albany Park, Terry hadn't written a word of fiction, although some federal judges mistakenly claimed he did. Bricklayer is a psychological thriller that follows Chicago's first serial killer since the Killer Clown. Terry has two other thrillers in the works, weaving stories of killers and cops while sitting on a beach on Sanibel Island.
Praise For The Bricklayer of Albany Park…
"Terry John Malik's debut The Bricklayer of Albany Park is a taut two-hander, devoting near equal screen time to hard-nosed Chicago detective Frank Vincenti and his elusive nemesis, a serial killer known as "The Bricklayer" in the papers but simply as "Anthony" to the reader.  The novel evokes the cinematic suspense and drama of cat-and-mouse thrillers like Manhunter, Seven, and The Silence of the Lambs, portraying hero and villain as two sides of the same coin – both driven, righteous, and tormented – leading the reader to ultimately sympathize with the devil."
--  Jonathan Talbert, Co-Producer, Chance, and Orange is the New Black


"a disturbing, yet masterful tale of murder and how childhood trauma may affect even those determined to rise above it . . . "
- Toni V. Sweeney, The Adventures of Sinbad
"As a federal judge for over 20 years, I have seen thousands of criminal defendants, many of whom are mentally ill, some of whom are cold blooded killers, and several of whom are both.  In The Bricklayer of Albany Park, author Terry John Malik has skilfully written a gripping novel with a complex main character who is this last category of murderer   Mr. Malik's extensive research into mental illness, woven with details that ring of a true criminal investigation, make for a riveting story that elicits both sympathy for the killer and fear for his victims.  A book that sucks the reader in and does not release its grip before the completely unexpected ending, it is a scary thrill ride.
-- T.B., Federal Court Judge
"In Terry John Malik's thriller, The Bricklayer of Albany Park, a mentor plays with his protégé's mind, a murderer plays with his victims' terror, a cop can't play along with his wife or his partner, and in the middle of gunfire, shouts of accusation aim for the murkiest part of the mind and soul. Malik paces the novel to keep the reader both frightened of the dark alley and determined to investigate the scene, the workaday police world and society's most troubling nightmares."
-- Lois Barliant, author of One Day's Tale
"There is something special about Detective Francis Vincenti and something extra special about Terry John Malik's ability to immerse the reader both in the minds of both a talented detective and in that of a  motivated and methodical serial killer.  Malik has created a vivid and gritty page turner that propels the story to an inevitable but jaw-dropping conclusion even as it leaves the reader feeling sympathy for both characters. In Vincenti's eccentric and troubled mentor, Thomas Aquinas Foster, Malik has created a character who subtly teaches the reader how to read this bone-chilling story, and hopefully many more to follow."
-- Mary Hutchings Reed, author of One for the Ark
- - publisher