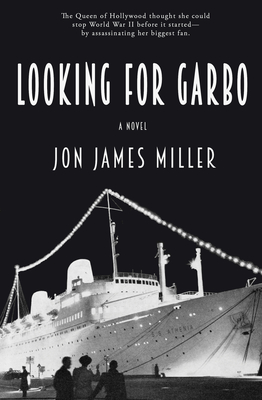 Looking for Garbo
A Novel
Hardcover

* Individual store prices may vary.
Other Editions of This Title:
Paperback (9/20/2022)
Description
"Blending hard-boiled noir and romance into a compelling historical tale, Looking for Garbo is filled with heart and action." —Foreword Reviews

James Main has a film to make. Seth Moseley has a story to tell. Neither have any idea how looking for Garbo would change their lives. When documentary filmmaker James Main places an ad looking for anyone still above ground who knew movie goddess Greta Garbo, he's delighted when Seth Moseley, a salty old reporter, replies with the promise of an untold story of why the reclusive star left Hollywood at the height of her fame. Dying of emphysema, Seth tells the story of when he was a cut-throat paparazzo stow away aboard the S.S. Athenia, intent on getting a candid photo of Garbo to pay off his gambling debts. Instead, the newshound falls hard for the enigmatic star as soon as he meets her face to face. But all is not what it seems and when war in Europe unexpectedly breaks out while the Athenia is still steaming across the Atlantic, Seth has to single-handedly save the movie star in the middle of an open ocean swarming with Nazis. Their daring escape brings Garbo's film career to a premature end and shatters the lives of both star and reporter. And, unbeknownst to James, hearing their story decades later will change his own life forever.
Praise For Looking for Garbo: A Novel…
"Drawing inspiration from Greta Garbo's comment that because Hitler was a big fan of hers, she might have had an opportunity to assassinate him, as well as reporter Seth Moseley's impromptu interview with Garbo aboard an ocean liner, Miller crafts a historical yarn that asks, What if Garbo had actually tried to carry out a plan to kill Hitler? Aspiring documentary filmmaker James Main travels with his crass boss to Connecticut to interview Seth Moseley, who is dying of emphysema, in the hope of extracting a story he's kept secret for decades. But when Seth's tale appears to be a hoax made up to get attention, James' boss fires him and storms off. When injured, James winds up in the hospital right next to Seth, where Seth reveals the true story of his hunt for Garbo on the S.S. Athenia, which involved a romp with a sultry Swedish barmaid, impersonating a porter, and eventually coming face-to-face with the movie star, along with several Nazis. Screenwriter Miller's first novel is an entertaining and spirited, old-fashioned caper." — Kristine Huntley, Booklist

 

"In Jon James Miller's heartwarming noir Looking for Garbo, James is dying for a unique story to build a documentary around. Seth, who's dying of emphysema, lures James in with a tale centered around legendary actress Greta Garbo and her connection to Adolf Hitler. Seth's story seems too good to be true, but after a freak accident leaves both men in the same hospital ward, James manages to pull the truth out of Seth. What follows is a strangely compelling adventure rife with violence, sex, and genre tropes. The foreword indicates that Miller drew upon historical facts and a personal connection for his text; he spoke with the real-life Seth. Expanding on the premise of Garbo's connection to the dictator with a lively cast of characters, the story alternates between Seth's romantic narration of his adventures aboard the SS Athenia and James's present-day drive to complete his movie and find an emotional resolution. Seth and James shine in their roles. Seth begins as a charming scoundrel, but his realness and flaws are revealed. James is fleshed out more slowly––most of all when he begins a relationship with his nurse. Over the course of the story, James and Seth––initially tied together by their adoration of Greta Garbo––connect in surprising ways, discovering similarities from mother issues to their longing for connection; these lead to a shocking, satisfying ending. Seth's tale could almost be considered its own novel. As he recounts his journey with Garbo, the story moves quickly––with more speed, even, than his present day narrative with James. Its elements, including multiple double agents on board the ship and repeated blows to Seth's head, are larger than life. Blending hard-boiled noir and romance into a compelling historical tale, Looking for Garbo is filled with heart and action." —John M. Murray, Foreword Reviews
Blank Slate Press, 9781943075553, 308pp.
Publication Date: May 7, 2019
About the Author
Jon James Miller has always been passionate about literature and film and pursued a career in the latter at Ithaca College in New York, earning a degree in cinematography. He moved to Los Angeles and found work as a researcher and segment producer on cable documentaries for A&E, Lifetime Intimate Portraits, and The History Channel. In addition to writing novels, non-fiction, and screenplays, Jon is a frequent presenter of live webinars on the craft of writing. When he's not writing or presenting, Jon loves to hike, play tennis, and go to movies. He lives, works, and plays in Northern California.
or
Not Currently Available for Direct Purchase